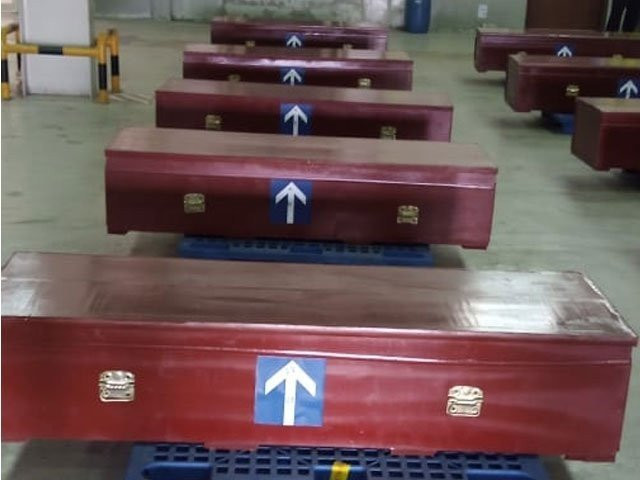 ---
ISLAMABAD:
The dead bodies of the nine Chinese engineers killed in the deadly Dasu incident had brought the the Islamabad airport on Friday morning, to be handed over to China.
Construction on a Dasu hydropower project is currently underway under the supervision of CPEC's Chinese experts.
On July 14 workers were travelling to the construction site when their bus suddenly plunged into a deep ravine after an explosion on board. The incident led to the death of at least 13 people, including nine Chinese engineers, two FC officers, and two labourers.
More than two dozen individuals were wounded and subsequently rushed to a nearby hospital.
The foreign ministry had initially declared the occurrence an accident. However, Federal Minister for Information Fawad Chaudhry later tweeted about the evidence of explosives coming to light and the possibility of terrorism or sabotage.
A high-level investigation into the incident is underway.
Read Work on Dasu dam to resume soon: FO
The bodies of the deceased were reportedly kept at cargo terminal at the capital's airport, wend will be flown to China by flight number GHT CA-42 at 2:30 pm.
On July 15, China asked Pakistan to "lose no time" in conducting a thorough investigation into the tragic incident.
"We have asked the Pakistani side to lose no time in conducting a thorough investigation, properly transfer and treat the wounded, strengthen security measures, eliminate security risks, and ensure the safety and security of Chinese personnel, institutions and projects in Pakistan," Chinese foreign ministry spokesman Zhao Lijian said during a media briefing.
He added that China will send out a cross-departmental joint working group to Pakistan to help with the relevant work.
Foreign Minister Shah Mahmood Qureshi stated that Pakistan would "thoroughly investigate the truth of the incident, [and] lose no time in sharing the progress of the investigation with China".
COMMENTS
Comments are moderated and generally will be posted if they are on-topic and not abusive.
For more information, please see our Comments FAQ