 ---
LODHRAN:
The fourth generation of a famous family of Lodhran, which makes tools for slaughtering sacrificial animals and cutting meat, is busy preparing and sharpening knives and cleavers ahead of Eidul Azha.
Mohammad Hanif, 48, said while speaking to The Express Tribune that his father Haji Mohammad Sharif and grandfather Wahid Bakhsh had worked as blacksmiths before him.
"Now my father and grandfather have died and my 22-year-old son Muhammad Saleem is doing this job with me. My father Haji Sharif worked in the same shop till he was 70 years old."
Hanif explained that at the beginning of his family business, wood and coal were burnt in a clay and brick kiln and iron was heated in it to make knives, meat cleavers, axes and other tools.
Read More: Amid Covid surge, PR not to ply Eid trains
However, the process has changed over time with innovations, and now knives and meat cleavers are made using electric motors.
A normal meat cleaver is made from 1.25 kilogrammes of iron, while 2kg of the metal is used to make a heavy cleaver.
A finer cutter is used to make knives, which weigh about half a kg.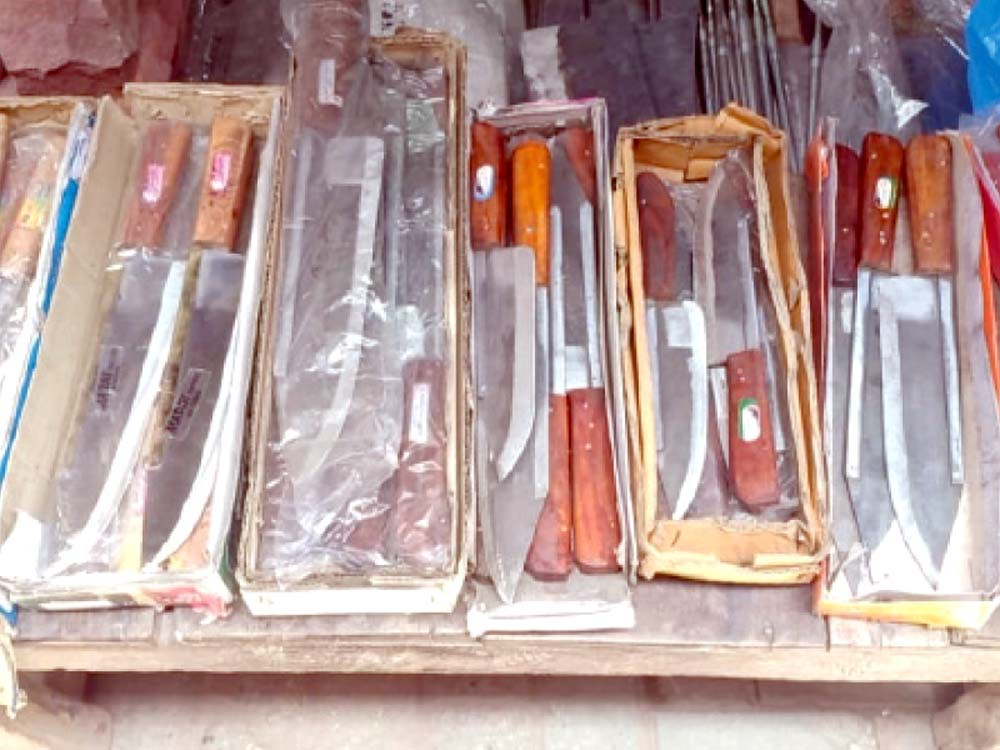 However, the trade of hand-made knives and meat cleavers is slowly disappearing. Factories are now operating in large cities to produce the tools.
Ahead of Eidul Azha, between 120 and 150 knives and 30 to 50 meat cleavers are sold daily at the shop, while the sale in normal days is negligible.
A knife is sold for Rs150 to Rs300 and a cleaver for Rs1,000 to Rs2,500. The charges for sharpening an old knife are Rs30 to Rs50. Sharpening a meat cleaver costs Rs80 to Rs150.
Rising inflation has also hit the business hard with factories shutting down due to the coronavirus pandemic and increase in iron prices raiding the production cost of knives and cleavers.
The price of the metal sharpening tool has increased from Rs2,690 to Rs5,000 in recent years.
The electricity tariff is also increasing continuously.
Hanif said his business had also been hit by a decrease in the number of local people able to afford a sacrificial animal. A share of cow sacrifice had increased from Rs12,000 last year to Rs20,000, he said, adding that this had resulted in a lower demand for his tools.
"Less people are slaughtering animals due to inflation and that is why the sale of the tools required for the purpose has also dropped. The number of people who come to sharpen their knives is also low." he added.
Published in The Express Tribune, July 21st, 2021.
COMMENTS
Comments are moderated and generally will be posted if they are on-topic and not abusive.
For more information, please see our Comments FAQ