 ---
Earlier Sunday, Israeli settlers called on supporters to force their way into the Al-Aqsa complex in large numbers to mark what they call the "destruction of the temple" in ancient times, according to Anadolu.
More than 1,000 Israeli settlers forced their way into the Mosque, according to a Palestinian agency. In a statement, the Islamic Endowment Department in Jerusalem said that 1,210 settlers broke into the complex through its Israeli-controlled Al-Mughrabi Gate, southwest of the mosque, and performed their rituals inside.
According to eyewitnesses, these settler groups attempted to storm the complex through the Bab Huta Gate and King Faisal Gate but were confronted by Palestinian worshippers. They launched tear gas and rubber-coated steel bullets at worshippers, as per Palestinian media, while Israeli police forcefully evacuated Muslim worshippers to clear the way for the Jewish visitors.
Now, supermodel Bella Hadid has once again spoken up against Israel's barbaric display of power on her social media. Taking to her Instagram stories, Bella shared the news of the attack on worshippers at Al Aqsa, writing, "No one should be treated this way, absolutely nobody. This is cruel, inhumane and it needs to STOP!"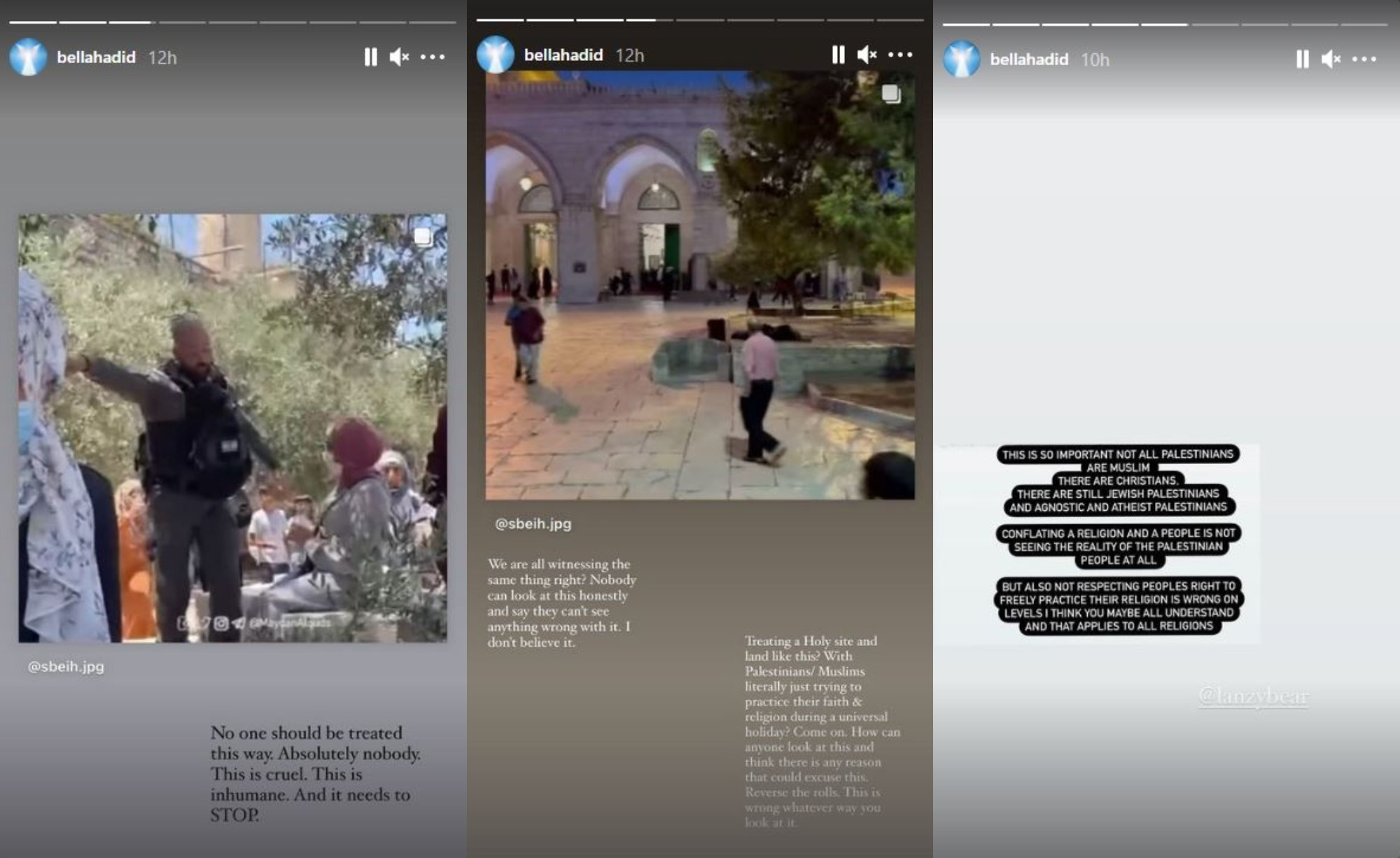 She shared videos and posts by Sbeih, which saw women in hijab being manhandled by Israeli officers, and quite roughly, kicked them out of the premises of the holy site. The videos also saw Israeli troops entering the premising and wreaking havoc.
"We are all witnessing the same thing right?" she continued to ask. "Nobody can look at this and honestly say they can't see anything wrong with it. I don't believe it."
Bella lamented how unfair it is to treat a holy site with such malice, especially with Palestinians and Muslims only trying to practice their faith during a universal holiday. "Come on! How can anyone look at this and think there is any reason that could excuse this. Reverse the roles, this is wrong whatever way you look at it!" she concluded.
The incident took place on the Jewish festival of Tisha B'av, marking the day of the year thousands of years ago when, according to tradition, both Jewish temples located on the Temple Mount were destroyed, reported Al Jazeera. The holy site lies in East Jerusalem, which Israel occupied and annexed in 1967, but is administered by the Muslim Waqf organisation which grants Jews limited access.
Have something to add to the story? Share it in the comments below.
COMMENTS
Comments are moderated and generally will be posted if they are on-topic and not abusive.
For more information, please see our Comments FAQ