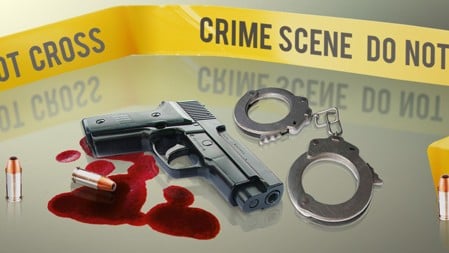 ---
PESHAWAR:
A police constable, who had been deployed at a Covid-19 quarantine centre, opened fire at two of his seniors after a verbal dispute and killed them on the spot.
SSP Operation Yasir Afridi told The Express Tribune that constable Abass, who had been deployed at a quarantine center at Doranpur on the outskirts of the city, had a fight with two of his seniors, Sub-Inspector Gul Rehman and Head Constable Imran.
The accused then opened fire at them. The accused has been arrested, he said.
"These three along with other policemen were deployed at the quarantine center. Sub-inspector Gul Rehman was the in charge of the policemen. All the travellers coming from abroad are quarantined here for 15 days. When constable Abass was on guard duty he allowed a man to leave without permission from his senior," said another policeman, adding that the two seniors grilled Abass for a long time and accused him of receiving bribe from the man who was allowed to leave the center without permission.
Read More: Girl killed by brother, father
"This led to a verbal dispute between the three of them which continued for an hour. When Abass was repeatedly blamed for taking bribe by the SI and HC, he took his official AK-47 rifle and opened fire at both of them, leaving them dead," he added, saying that after the incident Abass tried to flee but other guards overpowered him and took away his rifle. He was later handed over to local Chamkani police who opened investigation into the case. An FIR was yet to be registered in the case.
The incident took place on Sunday morning.
In a separate incident a constable of Counter Terrorism Department was gunned down by unidentified people in the jurisdiction of the same police station. Police reached the spot and started a door to door search after cordoning off the entire locality.
"Constable Saffder was working for CTD and he was deployed at a police station currently," said a police official, adding that around 12 o'clock he was going on his bike when unknown people opened firing at him. He was rushed to the Lady Reading Hospital (LRH) but was pronounced dead on arrival," said another police official, adding that it is not clear if it was a terrorism incident.
Published in The Express Tribune, July 19th, 2021.
COMMENTS
Comments are moderated and generally will be posted if they are on-topic and not abusive.
For more information, please see our Comments FAQ