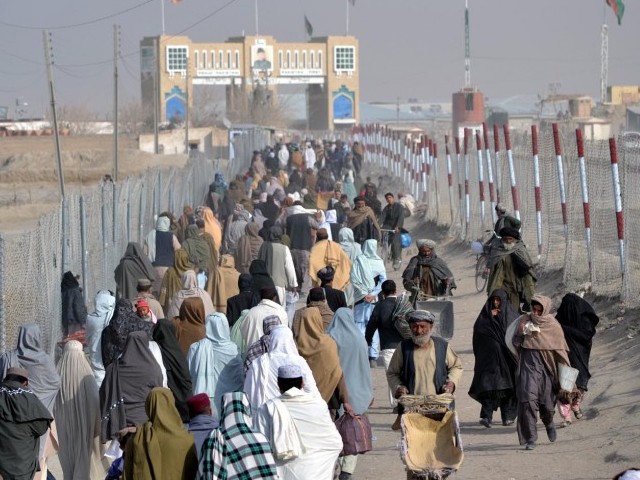 ---
ISLAMABAD:
Pakistan has deferred the approval of a new policy to handle influx of Afghan refugees that seeks $2.2 billion international aid to take care of 700,000 immigrants and describes them as "externally displaced Afghans" (EDAs) instead of refugees.
The policy had been presented to the federal cabinet for approval in its last meeting by the Ministry of States and Frontier Regions after holding four inter-ministerial committee meetings between May and July of this year.
The policy document showed the estimated cost for housing 700,000 million Afghan refugees in secure and exclusive camps at $2.2 billion over a period of three years. The cost includes expenditures on registration, transportation, camp management food and other sustenance amenities.
A timely and carefully evaluated international appeal may be made for international financial support for the influx of Afghan citizens. In case of temporary local financing before international aid materializes, a separate case based on the requirements will be processed for approval through the Finance Division, according to the draft policy.
The sources said that the cabinet discussed the policy in detail but postponed its final approval.
Read: Pakistan allows thousands of stranded Afghans to cross Chaman border
"The prime minister has issued directions to improve the language of the policy and to finalise it at the earliest," Information Minister Fawad Chaudhry told The Express Tribune.
Pakistan's Mission in Afghanistan has informed that around one million individuals may be affected by the post draw-down scenario and that fresh influx of Afghan refugees may not be stopped and preparations for influx may be made.
According to the inter-ministerial committee's estimates conveyed to the cabinet in its last meeting, 500,000 to 700,000 Afghan refugees might come to Pakistan.
The draft of the policy showed that Pakistan's first choice would be that it would not accept any influx of Afghan citizens and resist it as far as possible.
The government of Afghanistan and the international organisations will be urged to facilitate the settlement of displaced Afghan citizens in safe areas within Afghanistan.
The information minister said Pakistan could not afford to host more refugees but in case of any influx the government would restrict them to camps that will be setup away from city centres.
"Pakistan's economy is in serious constraints and the International community must play its part and not put all burden on the country," Fawad said.
In case the situation in Afghanistan further deteriorates, the displaced Afghan nationals may be granted entry and placed in secured camps in border regions away from urban centers and sensitive sites, according to the draft policy.
This may be done under a trilateral (Pakistan, Afghanistan and UNHCR) agreement, subject to assurance of sustainable financial support from the international community until their return to Afghanistan through an early, time bound and well-resources repatriation plan. The trilateral agreement should not exclusively include the provision of non-refoulement, it added.
Acceptance of such an influx may invoke the non-refoulement clause under international customary law whereby it would be difficult to send such persons back to Afghanistan, leading to yet another protracted refugee situation.
The new influx of Afghan refugees should not be given refugee status, similar to POR card holders but may be registered as EDAs with comprehensive identity and personal details, according to the recommendation by the inter-ministerial committee.
This funding would need to be secured from international donors through an international appeal, to be launched in partnership with the UNHCR, focusing on grants or in-kind aid.
However, during a meeting with the UN agencies, the "UNHCR, UNICEF, WHO and WFP response was not encouraging and there was no indication of any long term commitment for provision of regular and sustainable funds", according to the inter-ministerial committee documents.
Pakistan is not a signatory of any international treaty to host refugees. But the inter-ministerial committee was of the view that international organisations and foreign governments may request Pakistan to accept the new influx on humanitarian grounds despite the fact that Pakistan is not a signatory to the Refugees Convention of 1951 or the Protocol of 1967.
At the international level, Pakistan along with Iran is part of the Solutions Strategy for Afghan Refugees based on the elements of support for repatriation, sustainable reintegration and assistance to host communities.
Read more: Regular army troops deployed at all border crossings with Afghanistan: DG ISPR
There are currently 1.44 million registered Afghan refugees, including 840,000 Afghan citizen card holders having non-refugee status and 770,000 undocumented Afghan nationals in Pakistan.
The protracted presence of Afghan citizens has adversely affected the local economic, social and security conditions.
Iit has become increasingly challenging due to gradual and significant reduction in international financial support for Afghan refugees.
The minutes of the inter-ministerial committee showed that "the mechanism to send them back to their home country, either on stoppage of relief assistance/funds or on improvement of conditions inside Afghanistan should be ensured and agreed to by all including global partners and stakeholders".
The government would preferably restrict entry to Pakistan through Torkham and Chaman border points. The registration process will be undertaken by NADRA under the supervision of the Ministry of Interior and Ministry of Defence.
The local authorities have identified 10 sites in Khyber-Pakhtunkhwa and four in Balochistan to settle the Afghan refugees. These are Shalman Camp, Tedi Bazar, Shah Kas, Binshahi Nagar, Kherabad, Nawab cam, Tabi camp and Dera Mandi Camp in Chaghai, Chaman and Badini in Balochistan.