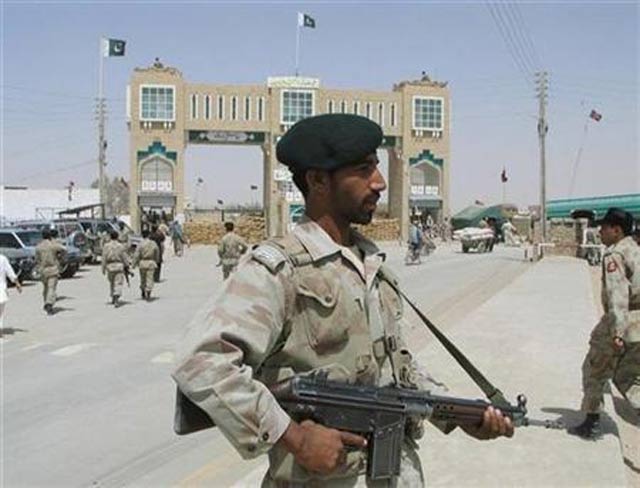 ---
QUETTA:
After mutual consensus, Pakistan and the Taliban officials on Thursday opened the Friendship Gate – the border crossing – in Chaman for a brief time to allow stranded citizens of both countries to return home.
Pakistan had shut the Chaman border for an indefinite period after the Taliban forces claimed they had captured the strategic border crossing of Spin Boldak and Wesh area along the frontier with the country, resulting in people being struck up at both sides of the border.
Officials in Chaman confirmed the development, saying that the decision to open the border crossing for pedestrians was taken on humanitarian ground as hundreds of people – including women, children and patients – were stranded on both sides of the border.
"Around 700 Afghans, including patients, crossed into Afghanistan through the Friendship Gate while some 155 Pakistanis who were stranded in Wesh were allowed to enter Chaman having Pakistani National Identity Cards," a senior official of the local administration said on the condition of anonymity.
The senior official added: "The border remained open for three hours only for pedestrians."
It was not yet decided whether the border would be opened on Friday (today) or not, the border authorities said.
Meanwhile, Taliban fighters consolidated their positions in Wesh and other areas of the Spin Buldak district of Afghanistan after taking control of all-important check-posts around the captured towns along the Pakistan-Afghanistan border. The offices of Afghan government were also taken over by the Taliban forces.
The border, which Pakistan had sealed the other day, remained closed till 2pm but later the friendship gate was opened after talks with the Taliban's local commanders. However, hundreds of trucks loaded with Afghan transit goods and other items were not allowed to cross the border.
According to local reports, Taliban commanders have told local traders that they would talk to Pakistani authorities for resuming Afghan trade.
COMMENTS
Comments are moderated and generally will be posted if they are on-topic and not abusive.
For more information, please see our Comments FAQ