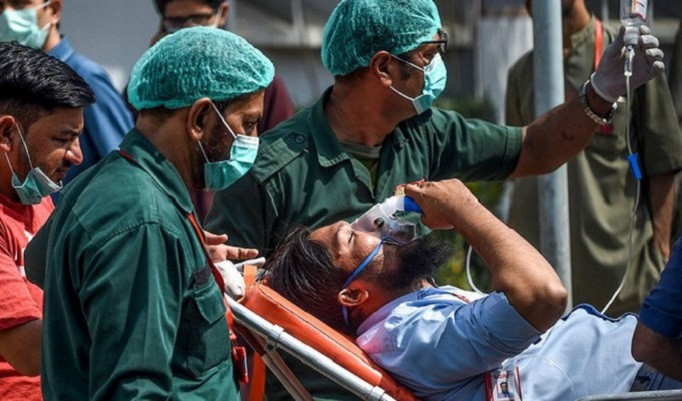 ---
LAHORE:
Weeks after authorities began easing coronavirus counter measures, the highly contagious Delta variant appears to be rearing its head in the most populous province.
Health experts have already begun to sound the alarm about a viral resurgence in Punjab, where so far 15 cases of the deadly variant that brought India's health infrastructure to shambles have been reported.
To contain what looks like the fourth wave of the pandemic, the provincial health authorities have declared a state of emergency and are said to be considering another smart lockdown.
In its message last month, the National Command and Operation Centre (NCOC) cautioned that a fourth wave of the pandemic was around the corner. The centre urged people to get vaccinated against Covid-19 and follow all safety guidelines.
Vaccination campaign
The provincial adminstration's ambitious target of vaccinating 10 million people by the end of June was stalled due to the shortage of doses. So far, 9.2 million shots have been administered.
A health department insider revealed that more doses for protection against the super-spreader have been acquired and the vaccination campaign has been accelerated across the province.
"To meet the rising demand, the provincial administration has already requested for an additional 2 million vaccines. The consignment is expected to arrive soon," confirmed the health department official, who was speaking on the condition of anonymity.
Furthermore, efforts to prevent calamities that were seen in India due to the Delta variant's spread include only vaccinated people being allowed access to markets, departmental stores, restaurants, and parks.
In this regard, DCO Lahore Mudassir Riaz has formed special teams which will ensure compliance. "The number of cases in Punjab was at 90 per day but now it has ballooned to 292 in a day," the DCO revealed. While talking to The Express Tribune, he stressed on the need for SOP implementation and vaccination against the respiratory disease that has claimed more than 10,000 lives in the province since its onset.
Official dissatisfaction
On the other hand, a notification issued by the Chief Secretary Punjab, available with The Express Tribune expressed displeasure at the slow pace government employees are getting vaccinated and gave strict directions to secretaries of all government departments to ensure that all employees were vaccinated and their certificates to be submitted to the chief secretary by 16 July.
Published in The Express Tribune, July 16th, 2021.
COMMENTS
Comments are moderated and generally will be posted if they are on-topic and not abusive.
For more information, please see our Comments FAQ