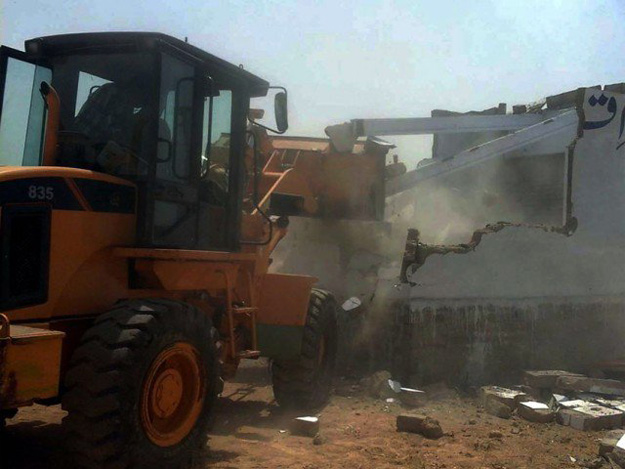 ---
ABBOTABAD:
During the recent anti-encroachment drive on Kaghan-Naran Jalkhad Road in Mansehra district, six illegally constructed hotels were demolished completely and 22 hotels buildings were partially dismantled, said Hazara Division Commissioner Hazara Riaz Khan Mehsud.
He added that over 6,000 illegal cabins were removed and over 700 kanals of state land were retrieved. "Some miscreants created a law and order situation during the operation in which a DSP, a constable and four other persons were injured," said the commissioner.
Briefing newsmen at his office the other day he confirmed the arrest of 50 people involved in creating hurdles during the operation who blocked the road and also resorted to firing on police.
He said that the administration and Kaghan Development Authority had fulfilled all legal formalities including issuing notice to all violators before conducting the anti-encroachment operation.
Read Protesters clash with police during Aladdin park anti-encroachment operation
He said 290 hotels from Balakot to Naran which were served notice. Similarly, boats from Lake Saiful Maluk were removed and confiscated. He appreciated the role of the police for handling the situation amicably and termed it a successful operation.
He dispelled the impression that operation had been conducted to facilitate a PTI MPA.
Replying to a query, he disclosed that sewerage from several hotels had been contaminating Lake Saiful Maluk and stated that several initiatives had been taken in the area to promote tourism which include a complete ban on catching fish particularly trout, plantation on river bed of Kunhar and provision of biodegradable bags replacing polythene bags.
Published in The Express Tribune, July 15th, 2021.
COMMENTS
Comments are moderated and generally will be posted if they are on-topic and not abusive.
For more information, please see our Comments FAQ