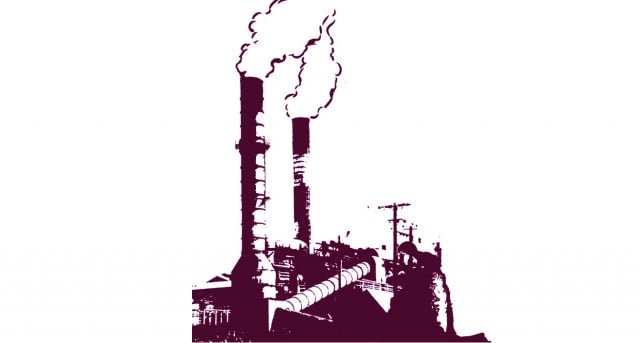 ---
KARACHI:
Large industries like textile, food, automobile, and petroleum oil industry have maintained growth momentum in the wake of the government's pro-growth, industrial-friendly and export-oriented policies.
The large-scale manufacturing sector's (LSM) output grew 14.57% in the first 11 months (Jul-May) of the fiscal year ended June 30 compared to a negative growth of 10.32% in the same period of last year, the Pakistan Bureau of Statistics (PBS) reported on Tuesday.
Ten large industries, out of total 15 listed in LSM sector, posted surge in production in the 11 months under review including textile, food, beverages & tobacco, coke & petroleum products, pharmaceuticals; chemicals, non-metallic mineral products, automobiles, iron & steel products, fertiliser and paper and board.
The products which recorded drop in output include electronics, leather products, engineering products, rubber products and wood products.
The LSM sector's output soared 36.84% to 139.55 points on the LSM index in May compared to a negative growth of 24.80% to 102.92 points in the same month of last year. It, however, "decreased by 3.93% if compared to (the previous month of) April 2021," PBS said.
May appeared to be the fourth consecutive month in which the sector maintained downward trend on a month-on-month basis amid third and fourth waves of the Covid-19 pandemic in Pakistan.
Despite the downward trajectory in May, the growth in the first 11 months under review rose to 14.57% compared to "15-year high at 9% in the first nine months (Jul-Mar) of FY21," according to the Economic Survey 2020-21. Textile industries, which remain the single largest industry and export earning sector of Pakistan, has maintained robust productions for the past many months after the industries received significantly high export orders as the pandemic raged out of control in some of the regional countries. "World's buyers diverted their textiles orders to Pakistan after Covid-19 crisis worsened in the neighbouring country India in recent months," Federation of Pakistan Chambers of Commerce and Industry (FPCCI) Former President Zubair Tufail said the other day.
Besides, the cement, steel, pharmaceutical and oil industries have continued to outperform following pickup in local demand for such products.
"The housing, construction and allied industries having maintained growth trend despite significant price-high in construction material in recent months," he said.
The receipt of significantly high workers' remittances from overseas Pakistanis to their family members in the country and offer of subsidised housing finance and comparatively cheaper financing for cars by banks have agreed people to liberalise their spending and purchasing habits amid the pandemic, he said.
Published in The Express Tribune, July 14th, 2021.
Like Business on Facebook, follow @TribuneBiz on Twitter to stay informed and join in the conversation.
COMMENTS
Comments are moderated and generally will be posted if they are on-topic and not abusive.
For more information, please see our Comments FAQ