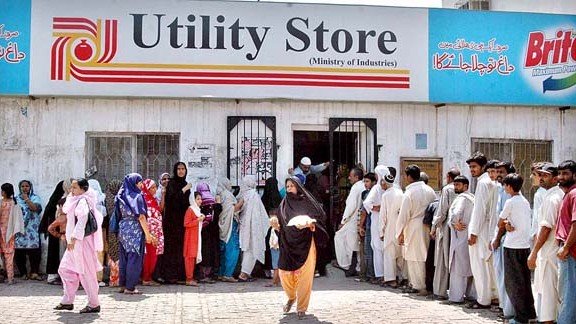 ---
ISLAMABAD:
The secretary of industry and production told a Senate panel on Tuesday that there is corruption in the Utility Stores Corporation (USC) as its goods are reportedly sold in the open market.
"In addition, a great amount of inventory in the USC was also reportedly damaged," the secretary told the Senate Standing Committee on Industries and Production, whose meeting was chaired by Senator Faisal Sabzwari.
"However, in order to address these issues, the USC is being automated. Cards also will be issued at the stores to ensure targeted subsidy to the consumers," he added.
The USC is a state-owned enterprise that operates chain stores throughout the country to provide basic commodities to the general public at prices which are lower than the open market.
The committee was also informed that Pakistan is producing over a million mobile phones per month against a demand of 3.6 million phones per month.
Twenty one mobile companies have started their operations in Pakistan. Cellular giant Samsung also plans to set up a mobile assembly unit in Pakistan in the next six months, the committee was told
Ministry officials in their briefing told the meeting that tax concessions have been given on electric vehicles (EVs) and charging infrastructure for EVs while the government has also abolished taxes and duties at such charging stations.
Elaborating on the use of the EVs, they said allegations of under-invoicing for the EVs are rampant. They said customs had fixed the average import price for the EVs while additional taxes have also been levied.
Senator Faisal Sabzwari said the prices of vehicles on which taxes and custom duties have been waived have not come down much. "It appears that car manufacturers would not provide relief to the people while benefiting from these concessions," he said.
Officials from the Ministry of Industries and Production told the committee that Pakistan has an annual capacity to manufacture 418,500 vehicles while its annual consumption is 300,000. Two car companies, Kia and Ibrahim Sons have applied for a joint venture, for manufacturing of vehicles in Pakistan.
The standing committee was informed that the prime minister has taken notice of an increase in the prices of tractors and the government is taking corrective steps in this regard.
The committee was informed that the government was taking steps to promote use of small cars with the view that the people will switch to them from motorcycles.
COMMENTS
Comments are moderated and generally will be posted if they are on-topic and not abusive.
For more information, please see our Comments FAQ