 ---
KARACHI:
It was for the first time in the history of Sindh that a landmark ruling had hinted at the possibility of female farmers having a say in water management. But it appears, despite the legal green-light, the implementation of the law has long remained a pipe-dream for the people of Sindh and a stumbling block for the provincial government.
Drafted in 2018, the Sindh Water Management (Amendment) Act, was a product of the civil society's struggle to obtain women's representation in farmer organisations (FO), Water Allocation Committees (WACs) and Area Water Boards (AWBs). The legislation which was finally passed in 2021, if imposed, would have allowed women in farming districts a greater agency in aspects like delivery of irrigation water, removal of drainage water and floodwater management, yet as of now, all appears to be in vain.
The private bill was moved by Muttahida Qaumi Movement (MQM)'s Rana Ansar to include two prominent women from strong farming backgrounds in every FO, WAC and AWB of their respective districts.
Per experts, if implemented effectively, the law will afford rural women, who have great contributions in crop sowing and harvesting, representation in more than 40,000 watercourse associations, 300 farmer organizations 14 area water boards.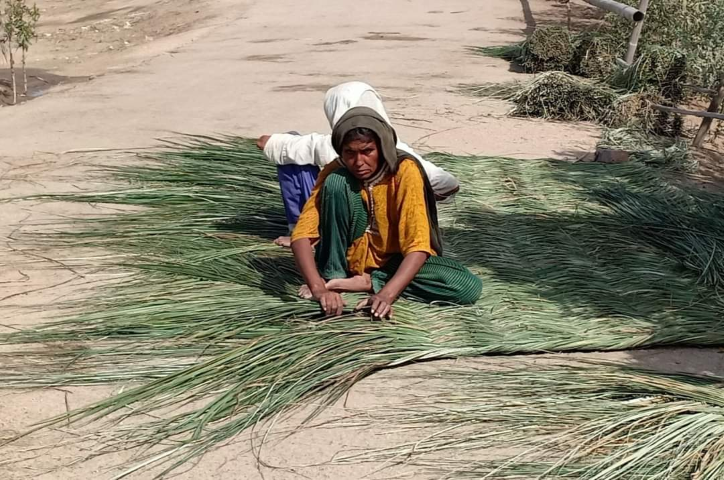 Earlier, Sindh Water Management Ordinance (SWMO) was promulgated in 2002, which required that farmers' organisations be formed at each distributary for the equitable distribution of water, but it remained a male-dominated exercise with no representation of women.
"Around 93,000 women are directly associated with agriculture in the province and play a pivotal role in growing paddy, cotton, sugarcane, wheat, vegetable and other crops," informed Shazia Shaheen, a activist associated with Strengthening Participatory Organization (SPO)- a rights-based civil society organization that has been lobbying for the implementation of the law.
Yet however, Saheen told that these women, despite their stakes and labour, are sidelined whenever it comes to decision-making. Whereas, the implementation on the law, as per the activist, is delayed by those who are reluctant to see women performing a greater role in society.
Sources privy to the development told The Express Tribune that despite the passage of six months in the making of the law, the rules of business have not yet been approved by Sindh Irrigation and Drainage Authority (SIDA), which looks after the provincial irrigation and drainage system on behalf of the irrigation department.
"We have even drafted the rules of business and handed over the same to SIDA, but are still waiting for their approval," said Shaheen, adding that the law initially hopes to offer representation in the areas that falls under SIDA jurisdiction. "Out of 14 main canals in Sindh, SIDA works only on three major canals in lower Sindh. So this law will be partially implemented and remain confined to certain areas and not entire Sindh until SIDA with the help of government take over other canals too."
Another official privy to the development said that SIDA, with the help World Bank and Sindh government, is eyeing to take over Dadu Rice canals too for the establishment of a sustainable and participatory basis for the distribution and delivery of irrigation water and removal of drainage water and management of floodwaters.
Hari Welfare Association (HWA) President Akhram Khaskheli, referring to 2017 Census, said that Sindh's total population is around 47.883 million, out of which 22.956 million (48 percent) are females. While in the rural parts of Sindh, more than 10 million women are directly or indirectly linked to agriculture. "Where it is rural folk who generally face the most challenges, but among them the condition of women farmers is the worst," commented Khaskheli.
HWA president further stated that the women who work in the agriculture field usually look after their home and children too. Despite all this, there is zero percent ownership given to women in harvesting the crops and the income generated from it.
Khaskheli believes that the provincial government should also implement Sindh Tenancy Act 1950 in order to register farmers of both genders; in addition to Sindh Women Agriculture Workers Act 2019 to ascertain equal pay for male and female farmers. "After this act, the working day of a woman in the agriculture sector shall not exceed eight working hours and shall not commence until one hour after daybreak or continue beyond one hour prior to sunset. As great as the law is, implementation has been a tough row to hoe."
Speaking in regard to Women Agriculture Workers Law, a senior official in the agriculture department alleged that the government has neither made any budgetary allocation nor decided any plan of action or policy to implement the law for the protection of female farmers.
Speaking to The Express Tribune Hizbullah Mangrio, the spokesperson for SIDA said that the board meeting was scheduled last month, where rules of business were supposed to be passed, but it was delayed due to some urgency. "We believe in women empowerment and have given our input in drafting rules of business. How can we adopt delaying tactics?" he questioned. It will be a proud moment if we have women representation in water resources management, said Mangrio adding that SIDA board meeting would be conveyed after Eidul Fitr to pass the rules of business.
Published in The Express Tribune, July 12th, 2021.
COMMENTS
Comments are moderated and generally will be posted if they are on-topic and not abusive.
For more information, please see our Comments FAQ