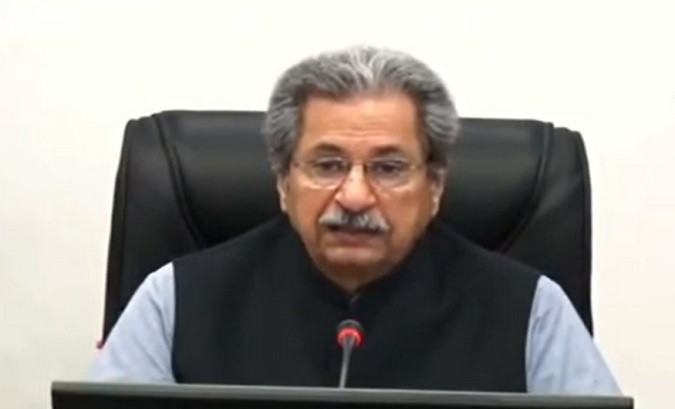 ---
ISLAMABAD:
Education Minister Shafqat Mehmood on Friday said that exams would start in the federal capital as well as provinces from Saturday (today), adding that the decision has been taken unanimously by all federating units.
"No surprise that N league, which is breaking apart, is playing politics with students to gain cheap popularity. People like [PML-N leaders] Ahsan Iqbal and Saad Rafiq knew that exams have already started in Balochistan and Sindh, therefore other students cannot be treated differently," he said in a series of tweets.
The minister's reaction comes after Thursday's National Assembly session where the PML-N and PPP leaders had presented a calling-attention notice in the house over ongoing protests by intermediate students in various parts of the country against the government's decision to take their examinations on short notice.
The government had rejected the opposition's proposal, saying it was not possible as exams were about to commence in a day or two. Moreover, NA Speaker Asad Qaiser had assured the opposition lawmakers of resolving the issue after meeting with Education Minister Shafqat Mahmood. He had also asked the government and opposition to sit together on this matter and sort it out.
The education minister claimed that the PML-N leaders know that the decision to take exams was taken unanimously by all federating units including the PML-N government in Azad Jammu and Kashmir, and PPP in Sindh. They, he added, know that students could not be promoted on the basis of previous exams as there were no exams last year.
"They know that decision to take exams was taken unanimously by all federating units including N govt in AJK, and PPP in Sindh," it read.
Lashing out at the opposition leaders, he said Saad and Ahsan should know that for educating people, exams were the "best measure" to evaluate students' ability, adding that class 12 was much important as the students had to go to universities and professional colleges on the basis of HSSC results.
"Why hardworking students' should be discriminated," Shafqat said and asked the PML-N leaders to stop "cheap politics".
He went on to say that both PML-N leaders should know that after the 18th Constitutional Amendment, only one educational board – out of 30 – the federal board was under the federal government. "Yet they were pretending that one order from the federal minister could stop exams across the country."
The minister alleged that PML-N leaders have again made a failed attempt at cheap politics.
"Exams are starting tomorrow (Saturday) in the remaining provinces and federating units. Wish all students taking exams from tomorrow the very best. Inshallah, all will do well," Shafqat said.
While offering an opportunity to those students who wanted more time for preparations, he said they could avail themselves of the chance of appearing in supplementary exams that would be taken after two to three months by all boards. "Why these exams should be postponed and students who have been studying be penalised," he added.
Reacting to Shafqat's tweets, PML-N leaders again demanded of the government to postpone intermediate exams for 45 days.
"Many children live in remote areas of Pakistan, not all children in Pakistan belong to the elite class. The government imposed a cruel measure on children. The demand for children is justified so that they can complete or prepare their curriculum," Iqbal said in a press conference along with Saad Rafique and Tariq Fazal Chaudhry.
He added that children should be given 45 days exemption if they have requested so.
On NA session's debate, he said that an important issue was discussed in the lower house the other day that the youth of Pakistan was going through a "lot of trouble" regarding the exams.
Talking about the NA speaker's assurance, Rafique said that Qaiser had asked the government to sit with the opposition on the issue. "I texted in the evening to the NA speaker that no one had contacted him," he added.
The PML-N leader called for an immediate release of the children who have been arrested.
"On the one hand, it is being said that the education minister is in Kashmir, while someone is saying that he is on a tour of northern areas. Is the education minister of the country missing, shall we release an advertisement?" said Rafique. (WITH INPUT FROM APP)
COMMENTS
Comments are moderated and generally will be posted if they are on-topic and not abusive.
For more information, please see our Comments FAQ