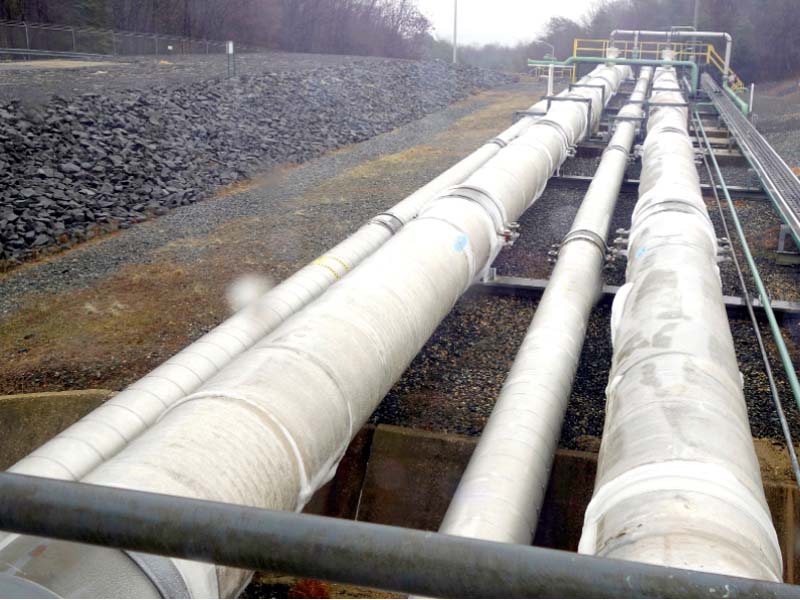 ---
ISLAMABAD:
The government has dropped name of Inter Gas State Systems (ISGS) managing director (md) from a delegation to negotiate gas price with Turkmenistan under the Turkmenistan-Afghanistan-Pakistan-India (TAPI) pipeline project.
The ISGS MD had been signatory of TAPI gas sales purchase agreement (GSPA). The former managing director had signed the agreement for the gas pipeline project and the role of current MD will also be as signatory of revised GSPA.
However, he has been dropped from the negotiation committee and a low rank official has been made part of the committee that is set to negotiate gas price with Turkmenistan. Pakistan had raised the issue of revising gas prices with Turkmenistan following import of LNG in the country. Under the GSPA, Pakistan and Turkmenistan are bound to revise gas price if Pakistan or any other country is able to bring gas at lower prices.
Now, Pakistan claimed that it had imported LNG at cheaper rates compared to gas price under TAPI gas pipeline project. Turkmenistan had built the pipeline in its territory and planned to build pipeline in Afghanistan.
The Afghan Taliban have recently taken over the area of Afghanistan, however, they had announced earlier that they would not sabotage the pipeline project. Tajikistan and Turkmenistan were already exporting electricity to the different areas of the Afghanistan over a decade. However, they never hit the electricity installation.
Amendment in agreements
Pakistan and Turkmenistan had already signed the GSPA and now, the negotiation committee will discuss the revised prices under GSPA.
The government has constituted a delegation comprising of members from different ministries and gas companies to conduct meeting with the Turkmenistan side for deliberation and finalisation of the proposed amendments in GSPA and Gas Transportation Agreement (GTA) of the TAPI project.
The delegation comprised of Petroleum Division secretary, additional attorney general, Ministry of Finance representative, ISGS technical GM, ISGS legal DMG, Sui Northern Gas Pipelines (SNGPL) MD, DG Gas, and Sui Southern Gas Company (SSGC) MD. The proposed date and time for the subject meeting is July 8, 2021 in the Ministry of Energy (Petroleum Division). The agenda of the meeting will be to discuss and finalise the proposed amendments in GSPA and GTA of TAPI project. The meeting will be held on Zoom.
Transportation agreement
The cabinet has also approved transportation agreement with Turkmenistan. Pakistan will receive a transportation fee against supply of gas in its territory.
Now, Pakistan and Turkmenistan are to sign this agreement. Before this agreement, both the sides are going to discuss modalities of the agreement.
Regarding revision in gas price, Pakistan has been pressing Turkmenistan to revise gas price as it has been receiving LNG at cheaper rates. However, Turkmenistan has been claiming that TAPI gas was still cheaper compared to LNG. To settle this matter, President Arif Alvi had taken up the issue with the Turkmenistan president following which the latter agreed to revise the gas price.
Officials said that the two sides would also discuss entry point of gas delivery. Earlier, the entry point was Turkmenistan border. However, Pakistan wants to designate Pakistan-Afghanistan entry point for gas delivery. The Turkmenistan side had agreed to this and will discuss further on July 8.
The Pakistani side had informed that it would not take responsibility for any gas in Afghan territory and will only be responsible for gas in Pakistan territory.
Future of TAPI
Experts say that different countries have been importing LNG at stop gap arrangement. They normally import 6%. However, Pakistan's import had reached 24%.
Published in The Express Tribune, July 7th, 2021.
Like Business on Facebook, follow @TribuneBiz on Twitter to stay informed and join in the conversation.
COMMENTS
Comments are moderated and generally will be posted if they are on-topic and not abusive.
For more information, please see our Comments FAQ