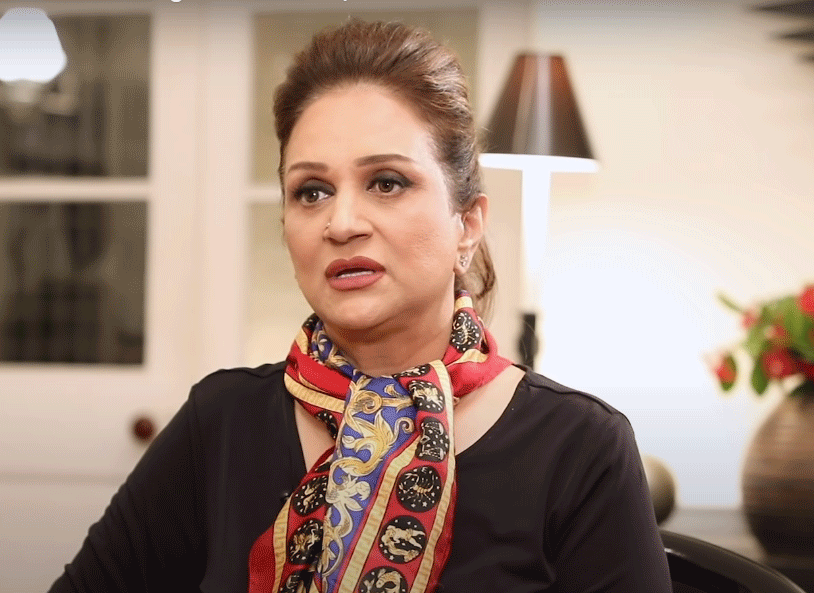 ---
It's easy to sit behind a glaring screen and have an opinion about anything and everything. Trolls, abusers, harassers have been given a free pass to call out just about anyone on social media with almost no consequences. Celebrities are the easiest targets on the big world wide web and it's easier to judge for a few more clicks and laughs.
The recent actor to have been caught in a needless 'controversy' is veteran star, Bushra Ansari. Over the weekend, few videos from a recent star-studded Mehendi went viral on social media. Artists such as Mahira Khan, Sajal Aly, Kubra Khan, Gohar Rasheed among others could be seen shaking a leg as Falak Shabbir set the mood.
Many took to social media and called out the celebs for 'shamelessly promoting vulgar culture' in Pakistan. However, a few users took it too far and called out Ansari for 'enjoying and dancing' too soon after her sister's untimely demise. Many trivialised her struggle by calling her out for putting her best foot forward, literally, and shamed her for dancing while being [read appearing] happy.
Now, Ansari has addressed the hate.
"I was in deep grief for the last three months and that loss is going to be in our hearts till our last breath. Two days ago, it was a family dholki and all my friends were there - insisting on me getting out of the stress and my sadness. Just tried to be part of her "khushi" and got up for two minutes with Azaan Sami Khan to participate in their happiness," she wrote in a lengthy caption on Instagram.
"But sad to see people's reaction. They just want to see us unhappy because we are famous and especially when somebody is over a certain age. How pathetic. I am telling you this is the best age to enjoy life when you are done with all your duties and Alhamdulillah I've achieved so much at this age. I don't have any regrets if I am over 60. So this cheap weapon of telling elders that you are old, and you have no right to be happy. Why not? I don't understand why young kids feel insecure about older people," she added.
The Udaari star finally concluded with, "If this is the only flaw being old, please change your thinking or treat your parents the same way. My comment about Islam was just about respect for other religions. I am not answerable to any faceless trolls because they never leave anyone even after wearing hijab."
She shared, "Stop hurting people - it's also not allowed in Islam."
Previously, actor Ushna Shah, who is quick to call out bullies and take a stand for what she deems right, took to her Twitter to clap back at users for slut-shaming and trivialising someone's grief. Without naming anyone, she tweeted, "A few weeks after Kobe Bryant's death, his wife shared a video of herself playing a game and laughing. Their audience applauded her strength to find happiness in the little things. Our actor dances at a wedding over a month after her sister's passing and are trolled for being happy too soon."
Ansari's sister, actor Sumbul Shahid passed away in Lahore in May after battling Covid-19 for weeks. Sumbul was fighting for her life on the ventilator after contracting the deadly virus. Both Bushra and Asma had been consistently requesting their fans to make a prayer for her health. But days after her passing, the Zebaish actor gathered the courage to make a video for her fans, to thank them for their prayers and condolences, while warning them about Covid-19.
Have something to add to the story? Share it in the comments below.
COMMENTS
Comments are moderated and generally will be posted if they are on-topic and not abusive.
For more information, please see our Comments FAQ