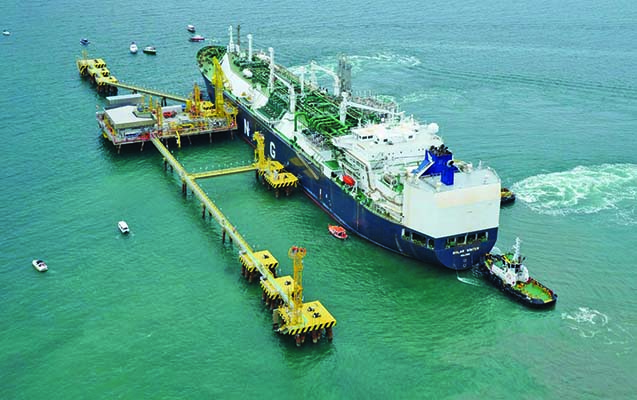 ---
ISLAMABAD:
Yet again power load-shedding and gas shortage in the country. This time it is due to drydocking of Engro's liquefied natural gas (LNG) terminal.
Sceptics argue that better planning and coordination and timely decisions could have prevented or at least eased the problem.
Engro will be able to replace its Floating Storage and Regasification Unit (FSRU) by a larger unit of the capacity of 173,400 M3 (960 million cubic feet per day – mmcfd).
It may be noted that the old FSRU (Exquisite) was of a volume of 150,000 M3 (690 mmcfd). Ultimately, it would be able to sell the excess capacity, under a similar crisis in winters, when gas demand increases.
This is, however, not without risk as some people have already estimated a cost of $40 million to the national exchequer. If political circumstances permit, another NAB case may be ready.
The ground reality, however, is that local gas supplies are going down and demand is increasing. Karachi's textile industry has complained that in the just-ended fiscal year there had been no gas for 99 days in 11 months.
Gas demand is on the rise. It is expected that LNG demand, on average, will increase by one terminal per year. At present, there is demand for four LNG terminals, while two are available only, and if one goes out, there would be a crisis.
This possibility and risk is always there, irrespective of the current issue. Accidents can always occur. There is no risk margin.
It has been more than a year that two more LNG terminals are under planning process and negotiations. It still remains uncertain as to when the two terminals would become a reality.
There are no firm contracts yet. This is despite keen interest of both the sides – investors and the government. What is preventing LNG terminals to come by?
Open market
It is the free market dream seen by the outgoing SAPM on petroleum. LNG terminals would be installed without sovereign guarantees and at the sole risk of investors.
While terminal investors are ready, there are risks and uncertainties about actual customers and the allied infrastructure.
Gas companies are scared that new marketers and suppliers are trying to steal their customers while they have back-to-back buying and selling arrangements and penalties for not lifting the contracted gas.
This requires a new framework to settle these issues. For LNG developers, these are big risks.
While governments can take reasonable risks such as 70% possibilities and slippage of a year or two for inter-related projects, private investors would like to be 200% sure of the market and actual customers. They would like to have contracts in advance with the actual customers. This is not happening.
Furthermore, in a small market where only a few actors exist, the risk of market manipulation is very much there. Under the proposed system, the LNG terminal owners would be free to set LNG prices at their own will.
Current policy of LNG terminals will only succeed if there is a large gas market that includes all sources of gas – imported gas pipeline, local gas fields and LNG.
We are already seeing how difficult it is to bring about free or competitive market in the power sector. It is relatively a larger market of more than 60-70 plants.
Yet all new projects for 2021-30 are being implemented under sovereign guarantees and the regulated system. Only projects of 2,000 megawatts have been indicated to come under the market system.
Market proponents are now talking of a time horizon of more than 10 years for market system implementation.
And this is about a system that would not be completely competitive. We have been discussing this issue in this space. So, free market may be a dream or at best a long-term issue, while the problems and unmet gas demand are immediate and even overdue.
The existing regulated system under sovereign guarantees has been working fine. It has been able to attract FDI.
The regasification charge is competitive. It can be possibly brought down through competitive bidding – now that there are two LNG terminals operating already and successfully.
An added factor is the rising prices of LNG. Higher oil prices are also being forecast. LNG terminal investors would be shyer than ever to invest due to the market and price risk.
There is altogether a new leadership at the Ministry of Energy for which it may be easier to change than the outgoing ones who dreamt of a free market. Let us make a fresh start with an objective to have firm contracts and bring in LNG terminals within a period of two years.
Lack of gas storage
One of the problems in the gas system is that there is no gas storage. Pakistan falls behind among large gas consumers.
In most countries with large gas consumption, there are gas storage facilities. Also, their LNG terminals are of Land Terminal type, which provides for a good amount of storage.
FSRU has very little storage and we have only FSRU. There is a need for providing gas storage.
Traditional gas storages are in depleted gas fields and salt deposits, of which we have both. These, however, may be time-consuming and capital intensive and could at best be a mid-term solution.
In LNG case, there are storage opportunities as well in the form of land terminals and FSUs (Floating Storage Units). FSUs are relatively cheaper.
Old LNG ships that are not seaworthy can be converted into FSUs at a relatively low cost. FSUs are installed with a regasification unit on barge or on land. A number of developing countries have installed FSUs.
There is a need for an immediate initiative in this respect.
LNG storage tanks (above ground and concrete-made) are typically of a capacity of 100,000 M3, although in Japan storage tanks of double this capacity have been made.
Typically, two such tanks are made at one land terminal.
By comparison, FSRU volume is normally of 150,000 M3. FSU volume could be lesser, ie 100,000 M3, as these are old ships of lower capacity.
Concluding, LNG terminal bidding and contracting process should be initiated without further loss of time under a regulated system as has been prevailing to date for the two existing terminals. Two LNG terminals are required. FSU regasification should also be encouraged.
FSU system may be cheaper and will enhance local knowhow as opposed to the existing one, which is totally manned by foreign manpower, while Engro personnel only manage the interface and do the accounting. Policy gaps and institutional competition and overlaps are preventing progress in the LNG terminal segment.
It is good to know that the Petroleum Division is actively considering entrusting the local gas companies with the task of laying gas transmission infrastructure.
They can do it easily, have the knowhow, know the terrain and have installed and operated similar projects. They would be almost 50% cheaper.
They can start without complicated and time-consuming bidding and contracting processes.
It would add to local knowhow and build construction export capacity in this sector. It may also be desirable to expand the capacity of the existing gas transmission network, which may be done within a year, which along with excess LNG terminal capacity can bridge the gas deficit in the short run and reduce the supply risk.
If all the aforementioned issues are streamlined, it would be possible to have LNG flowing from the two new LNG terminals through new pipelines to the end-consumers within a period of two years.
THE WRITER IS FORMER MEMBER ENERGY OF THE PLANNING COMMISSION AND AUTHOR OF SEVERAL BOOKS ON THE ENERGY SECTOR
COMMENTS
Comments are moderated and generally will be posted if they are on-topic and not abusive.
For more information, please see our Comments FAQ