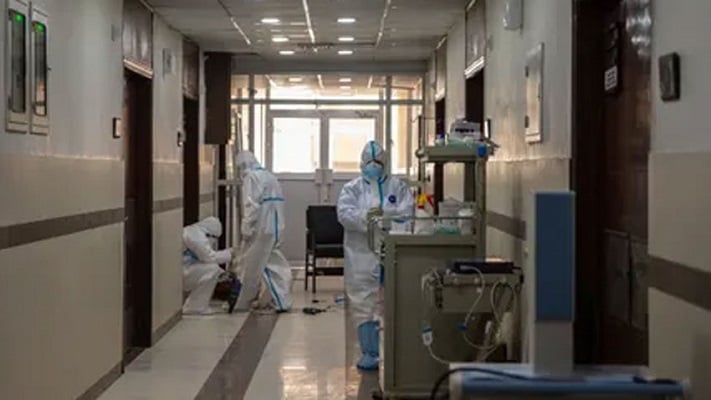 ---
ISLAMABAD:
The Ministry of National Health on Tuesday issued guidelines for Eidul Azha, warning that new variants of coronavirus might initiate a fourth wave of the pandemic because of a lot of activities during the auspicious occasion.
The guidelines are far less restrictive than seen during the previous Eidul Fitr, which was observed in the middle of May, amid the third wave of the infectious disease. Thanks to strict implementation of the Covid-19 standard operating procedures (SOPs) the cases continued to decline.
On Tuesday, according to the National Command and Operation Centre (NCOC), the single-day tally of new cases hit an eight-month low, while the national positivity ratio also declined to 1.78% during the past 24 hours.
The ministry guidelines suggested strict implementation of the SOPs in the cattle market. It advised the people to prefer online shopping of the sacrificial animals. However, those who wish to go to the market must ensure social distancing.
People without masks should not be allowed to enter the market, the guidelines said, adding that hand sanitizers should be placed at the entrances and exits of markets. For the sellers, the ministry makes the vaccine mandatory.
Read: Asad Umar warns of fourth Covid-19 wave in July if SOPs not followed
Similarly, the guidelines urge faithful to ensure social distancing during the Eid congregations. The ministry also urged people to avoid family events, hugging each other on the Eid day, because it could spread the disease.
Meanwhile, the national tally of active Covid-19 cases slid to 32,153 as 735 more people tested positive for the virus while 784 people recovered from the disease during the last 24 hours, according to the daily update issued by the NCOC.
It said that 23 patients, including 11 on ventilators, died during the past 24 hours, raising the nationwide death toll to 22,254. During the past 24 hours, the NCOC said, most of the deaths, 11, occurred in Punjab, followed by 9 in Sindh.
Among the active cases, 2,201 patients were admitted to various Covid dedicated healthcare facilities of the country, including 1,946 patients under treatment in critical condition. Around 253 ventilators were occupied in the country, the NCOC said.
As of Tuesday, the national caseload of the disease rose to 956,392. Among them 901,985 people had recovered from the disease so far, making it a significant recovery ratio of over 90%. A total of 14,502,023 corona tests have been conducted so far, the NCOC said.
COMMENTS
Comments are moderated and generally will be posted if they are on-topic and not abusive.
For more information, please see our Comments FAQ