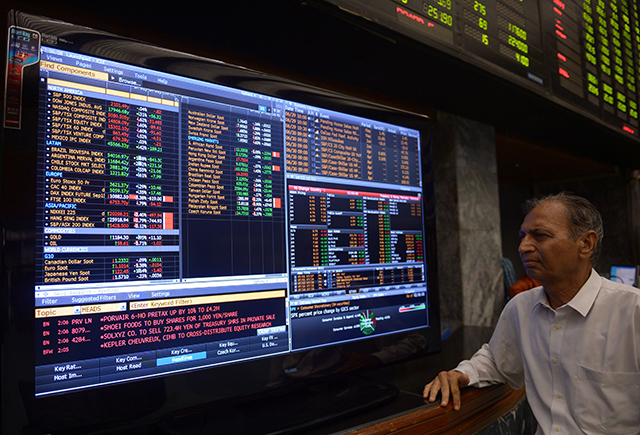 ---
KARACHI:
The Pakistan Stock Exchange (PSX) has facilitated companies in raising investment and debt worth over Rs80 billion from institutional, individual and retail investors in the current fiscal year ending June 30.
Most companies raised funds for expansion of their production capacities as low interest rate in the country encouraged investors to finance expansions on expectation of a better return in future.
"The investment in companies was backed by a turnaround in the national economy, which entered into a growth mode from the stabilisation stage during the outgoing fiscal year 2020-21," Arif Habib Limited Head of Research Tahir Abbas said while talking to The Express Tribune.
Data breakdown suggests that the PSX saw eight companies engage in book building (Dutch auction) and initial public offering (IPO) and raise a record high investment totalling around Rs20 billion in FY21.
"The number of IPOs at the PSX soared to a 14-year high at eight in FY21," he said.
Secondly, 25 old companies (whose shares were already available for trade at the bourse) raised an additional Rs50 billion by offering right shares - the shares which are offered to the existing shareholders of companies at a price lower than the current share price in the market. Besides, a company raised debt worth Rs11 billion at the PSX as well.
The equity and debt of around Rs81 billion was raised by companies belonging to food processing, car tracker, steel manufacturing, tyre, footwear, pharmaceutical, beverage can and chemical manufacturing and banking sector. In addition, the firms involved in oil marketing, fertiliser manufacturing, glass making, car assembly, investment, insurance and textile also raised modest equity and debt.
"PSX is expected to maintain a strong momentum with regard to IPOs and fundraising in the next fiscal year starting July 1," Abbas said.
IPOs next year would be backed by a turnaround in the economy, low interest rate, expansion in existing production capacities at factories and establishment of new projects by companies under the State Bank of Pakistan's (SBP) Temporary Economic Refinance Facility (TERF), he said.
The government has revised Pakistan's economic growth upwards to 4% for FY21 compared to the initial target of 2.1%. The economy recorded a negative growth of 0.5% in fiscal year 2019-20 owing to the Covid-19 pandemic.
Moreover, the central bank aggressively slashed the benchmark interest rate by 625 basis points during March-June 2020 to 7% at present. "If the rate is revised up, it would be measured and gradual as per SBP's latest monetary policy statement (MPS)," he said.
In addition, banks have approved subsidised loans of Rs436 billion under TERF. "Such companies may also opt for IPOs at the PSX," he said.
It is pertinent to mention that new listings were oversubscribed by 2.2 times as they generated a combined demand for Rs44 billion against the raised value of Rs20 billion, according to the brokerage house.
PSX's benchmark KSE-100 index closed at 47,137.77 points on Tuesday after an increase of 135.41 points (or 0.29%).
In June 2021, the benchmark index hit a four-year high of 48,982 points compared to the five-year low of around 27,000 points recorded in March 2020 on the back of Covid-19 outbreak in February 2020 in Pakistan.
Recently, the MSCI proposed to downgrade the PSX to Frontier Markets from Emerging Markets after market capitalisation of top three companies fell short of the level prescribed by the MSCI. The MSCI would announce its final decision in November 2021.
Published in The Express Tribune, June 30th, 2021.
Like Business on Facebook, follow @TribuneBiz on Twitter to stay informed and join in the conversation.
COMMENTS
Comments are moderated and generally will be posted if they are on-topic and not abusive.
For more information, please see our Comments FAQ