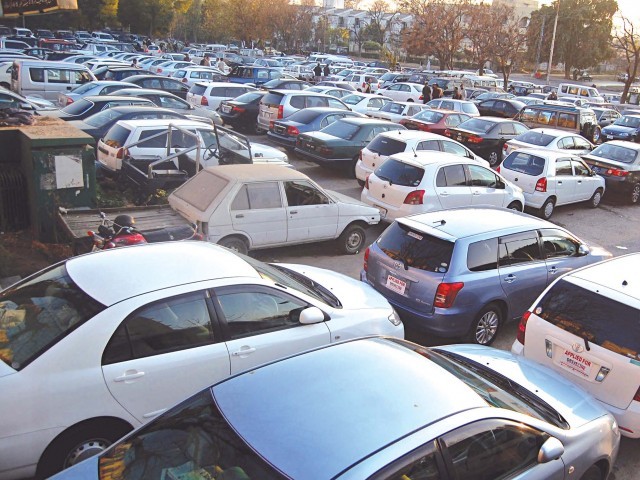 ---
RAWALPINDI:
The construction of multi-storey six parking plazas in Rawalpindi has hauled up following the Ring Road scam.
The parking plazas were to be built on modern lines with a collective construction cost of Rs4.6 billion.
The parking lots had to be constructed for both cars and motorcycles and could generate heavy revenue for the Rawalpindi administration.
An official of district administration, requesting anonymity, told The Express Tribune that all six parking lot were included in the Annual Development Programme (ADP). These plazas were to be built in Kutcheri Chowk, Old GTS Bus Stand, Jinnah Road, Fifth Road Commercial Market, Fawara Chowk, Raja Bazaar, and Bani Market. He added that the process for land acquisition for five parking plazas was also in its last stages.
The official said that each of the six plazas were to have a parking capacity of between 800 to 1500 vehicles and 4,000 motorcycles. The collective construction cost of the projects was estimated to be Rs4.6 billion. The design of the proposed parking plazas and other affairs were in the last phase and the development work was to begin in the fiscal year 2021-22, he added. However, after the Ring Road scandal came to the fore, the Punjab government did not include parking plazas in the ADP of the impending fiscal year.
Read Rawalpindi's 2nd parking plaza gets a nod
Sources said that the parking issue in the major markets of the city has turned insufferable.
It added that over 15,000 vehicles and 30,000 motorcyclists are wrongly parked on the major thoroughfares daily that result in disruption of traffic movement.
According to the sources, all parking plazas were to have a completely digitised system. It added that the people faced an unpleasant traffic situation every day at Raja Bazaar, Bank Road, Jinnah Road, Kachehri Chowk, Commercial Market, and Bani market. The violations of parking rules have become prevalent.
The district official said that the project pertaining to parking plazas in Rawalpindi has become indispensable.
The proposed parking spaces were to offer round-the-clock parking facility while the installation of closed-circuit television cameras to stop vehicle theft was also finalised.
Published in The Express Tribune, June 29th, 2021.
COMMENTS
Comments are moderated and generally will be posted if they are on-topic and not abusive.
For more information, please see our Comments FAQ