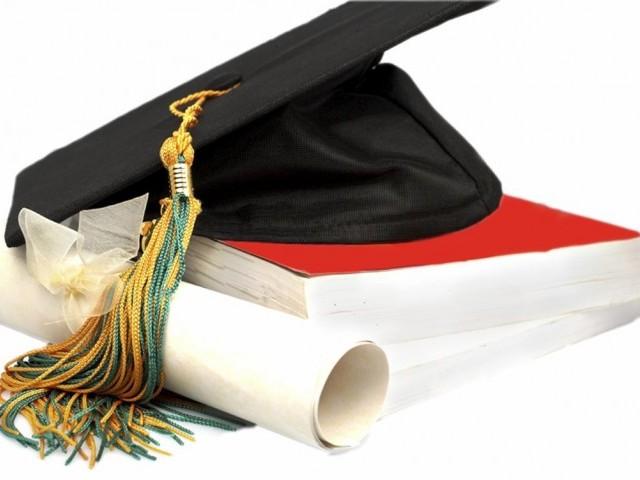 ---
KARACHI:
For private universities across the country, any association to the western world can often be the brightest feather they can pin to their caps.
By virtue of which, foreigners routinely journey to Pakistan, where their services are hankered after in the local academia.
Once here, the possibilities are assumed to be endless. Climbing the professional ladder, claim local pedagogues, is relatively easier for those who come from the global north. Foreigner mediocrity is prioritised over native excellence in Pakistan, believes Karachi University's former vice chancellor, Dr Pirzada Qasim. "If it is a western name like Edward on the resume, the person's academic repertoire turns secondary in the eyes of the hiring managers," he opined with conviction.
However, the western lure at private universities is not a culture that emerged out of nowhere. Instead, it appears to be hammered in the very spine of the higher education system. The Charter Inspection and Evaluation Committee in Sindh, which annually grades private universities, is one body partly responsible for propagating the notion.
According to the department's pro forma, the more the foreign teachers under a university's roster; the higher its grading. Per section five, sub-section 5.1 of the document, if the number of foreign faculty at a university exceeds 10, it is upped by 25 marks in its grading. Similarly, if the number is more than eight, the university gets 20 marks. For more than five, the university is awarded 12 marks and for numbers below five, it gets just five marks.
Conversely, a senior official of the Higher Education Commission, speaking to The Express Tribune, maintained that their focus has always been training the local academia. "The HEC has always encouraged universities to send faculty members abroad for Ph.Ds and higher education," he told the Express Tribune.
Bureaucratic structure
Despite the HEC official's claims, hiring faculty from abroad has been an emerging trend among private universities in Pakistan. But these academics from outside the country are said to come with their own share of operational adequacies. One being their uncertain nature of stay in the country, which is often subject to various bureaucratic proceedings. This is exemplified in the case of Dr Christopher S. Taylor, who had been holding the office of Vice President for Academic Affairs and Dean of Faculty at Karachi's Habib University, which employs a total of nine foreign teachers. Dr Taylor, who had been associated with the university since 2019, allegedly ran into visa renewal issues, before serving his resignation.
Read more: Universities: financial crunch
Although Habib University President Wasif Rizvi claimed that the dean's departure was due to the pandemic's impact on bureaucratic proceedings around visa renewal, no government sources could corroborate the claim.
Addressing the situation, Ms Alam, a Liberal Arts major at the university, said that the burden of such contractual issues with foreign teachers always falls upon the students. Most foreign professors are hired as visiting faculty and are hard to get hold of during after-class hours. "It was such a hassle for everyone when our professor got deported mid-semester that they had to cancel the course altogether," she expressed.
The barriers
Another issue, which Pakistani academics such as Dr Qaism cite, is that foreign professors struggle to identify with local language and culture. Which can potentially take a toll on the quality of their teaching.
In his opinion, the university system should start prioritising local doctorate-holders instead of relying on foreign lecturers, who he feels are not equipped to teach effectively in Pakistan.
Agreeing to which, Maryam Ahmed, recalled a Social Development and Policy lesson from her undergraduate years. "It was an interesting course, yet the most difficult for me. Our section was taught by a German lecturer. His accent was so thick that we could seldom grasp a word of what was being taught, while other sections had no difficulties in the subject," said Maryam. "On top of that, even if we can understand English, most of us don't have the privilege it takes to be accustomed to the semantics and academic jargons western professors fill their vocabulary with. Which makes education so inaccessible for some of us," she added.
Tehreem, who is an English Literature graduate from Lahore University of Management Sciences, however, believes that the communication gap depends on what part of the world the teacher is from and what course he or she teaches. "If there is a professor from Britain, teaching English Literature, which is meant to be a course conducted in English, it helps the students get a better grasp on the subject matter. Most students in the course are likely to have had prior English-medium schooling and a degree of mastery over the language. While it's a different story if he or she is teaching a course on regional policy or politics," she opined.
A Lahore-based Caucasian American university lecturer, recounting his own experience of the cultural gap, said that it's very much pertinent and something he had the most difficulties adjusting to. "It was reflected in subtle things about operating in the everyday: writing emails, greeting people, navigating social situations, etc. That does not come naturally to a foreigner," he affirmed.
In terms of language, the teacher said that students who came from privilege spoke better English and had no difficulties understanding. The not-so-privileged ones struggled with the language a little but that only meant that they required more attention and patience. "The only issue I ever ran into with were students who barely spoke any English. They did fine with other teachers who conversed in Urdu, but really struggled in my classes."
Some names and identifying details in this story have been changed to maintain confidentiality.
Additional reporting by Muhammad Phaseeh Ul Haque.
COMMENTS
Comments are moderated and generally will be posted if they are on-topic and not abusive.
For more information, please see our Comments FAQ