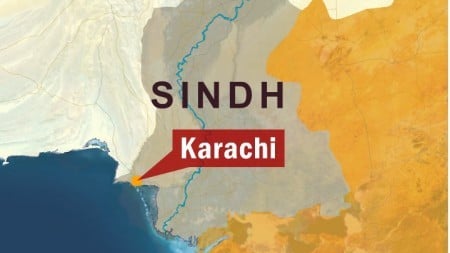 ---
KARACHI: A police encounter turned ugly on Tuesday when, in addition to a suspected criminal, a pedestrian was also killed while two others were injured.

One of the two injured was a young girl.

Recounting the incident, police officials said that two robbers on a motorcycle forced their way into the house of Mumtaz Pathan Line 19-D, near Mateen Complex. The suspects were in the process of looting the family at gunpoint when the police received information about the robbery - following which they cordoned off the area.

However, when the robbers spotted the police, they opened fire at them, triggering a shootout. While one of the robbers was killed, a 22-year-old woman, Sumera, who was just passing by also befell the same fate. A minor, Muqadas, and Zareen Gul, a labourer by profession, also sustained bullet injuries in the encounter.

Sumera's body was taken to Jinnah hospital as were the injured persons.

Following the incident, angry residents came out of their houses and blocked the road, protesting against what they called indiscriminate firing by the police. Alleging that the fatal bullets were fired by the police, they charged that the law-enforcers did not take into account the pedestrians and residents while shooting. The protestors also pelted vehicles with stones, suspending traffic for over an hour.

When approached, the statements of two police officials - the SHO and SPO of the area - were incongruous.

While the SHO said that the robbers were looting a family in their house when the encounter started, and that all the casualties and injuries were residents of the house, the SPO said that the incident took place in the street, where the robbers were trying to snatch a cell phone from a man.

Talking to The Express Tribune, Supervisory Police Officer (SPO) Sukhan said that the policemen had asked people to remain inside their houses but they did not listen to the instructions. The residents had their doors open and were watching the encounter. According to him, this is why the pedestrians were caught in the crossfire. "It is not clear whose bullets hit them, because there was firing on both sides," he said.

The suspects have not been identified yet. The police seized five mobile phones, one TT pistol and Rs8,000 in cash from the deceased robber's possession.

No FIR was registered till the filing of this report.

Published in The Express Tribune, June 23rd, 2010.
COMMENTS
Comments are moderated and generally will be posted if they are on-topic and not abusive.
For more information, please see our Comments FAQ