 ---
Actors Iffat Omar and Ayesha Omar recently schooled a troll for their ageist remarks.
Iffat had shared a photo featuring the likes of Bushra Ansari, Saba Hameed, Samina Ahmed, Ayesha Omar, Arjumand Rahim and Angeline Malik on her Instagram. She captioned the post, "Fun night," tagging all the powerful women in the frame. Following this, a user commented under the post writing, "Shaitan buddiyan," to which Iffat replied, "Obviously, someone with no identity and followers can't utter shit like this."
The Bulbulay starlet also jumped in to defend her seniors. Taking to the post's comment section, Ayesha wrote, "But most humans will get 'budha' in their lives, if Allah wills and they reach the age. It's a natural human process. In fact, it's a blessing to be alive and healthy in the latter part of your life."
She went on to ask, "Why do people use age as an insult or in a derogatory way? Aren't your parents old, Mr Troll, or your grandparents? Do you insult them for their age too? Points to ponder…"Ayesha then asserted that one must respect all ages, genders, orientations and living things to be precise. "Let's try and respect all ages, genders and all orientations. Not to forget, all religions and cultures. You will receive what you give out!"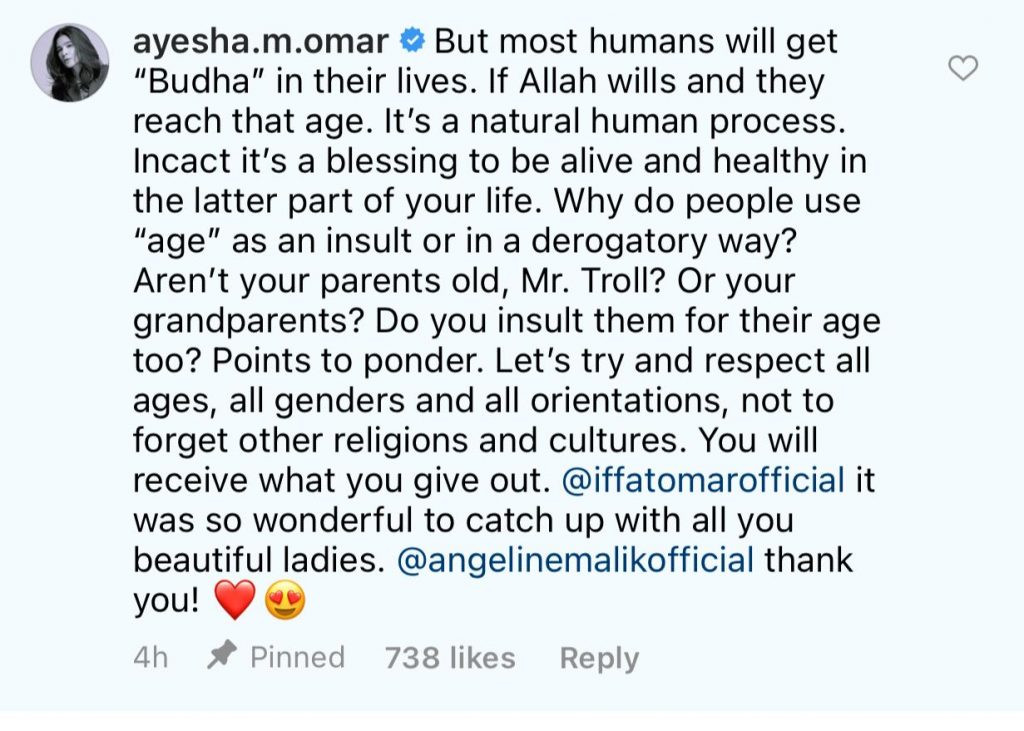 The Karachi Se Lahore actor then assured Iffat she had a ball catching up with all the ladies and thanked Angeline for the invite. Ayesha often calls out trolls for unnecessary criticism and moral policing. Previously, she silenced a user for accusing her of 'propagating behayai' and told them to look beyond her limbs.
Have something to add to the story? Share it in the comments below.
COMMENTS
Comments are moderated and generally will be posted if they are on-topic and not abusive.
For more information, please see our Comments FAQ