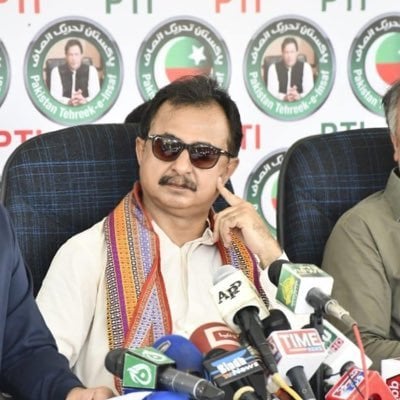 ---
KARACHI:
Leader of the Opposition Haleem Adil Sheikh on Friday said that for the first time in the parliamentary history of Pakistan, the opposition and specifically the opposition leader of Sindh and parliamentary leaders of the major opposition parties, i.e. PTI and GDA were barred from speaking during the session.
Talking to the media after the provincial assembly session, he claimed that Speaker Agha Siraj Durrani, on the instructions of Murad and his party leadership, had decided to not let the opposition, specifically the opposition leader, whose speech during the budget session is pivotal to the democratic process, speak. He went on to say that speaker has set the worst example of impartiality, unlike the national assembly where the Leader of the Opposition and other members have given due time to speak on the budget.
"PPP claims to champion democracy and democratic rights, is ironically not letting me speak during the budget session, which is both my constitutional right and an imperative duty as the opposition leader," Sheikh added.
"Yesterday, I requested to the Speaker that, I, being Opposition Leader and parliamentary leader of opposition parties, will speak on the budget before CM sums it up. When we came in the house, the situation was totally changed. The PPP lawmakers had already made up their mind to pass the budget in haste," Sheikh said adding that it was an undemocratic attitude of the PPP government.
Barrister Hasnain Mirza of GDA who also happens to be the parliamentary leader of his party while condemning ruling, PPP said: "PPP has gone against all rules and tradition of the house."
He said that when PPP was in opposition, they used to set budget books on fire and besiege the speaker podium. "PPP members have to their credit torturing a deputy speaker of the assembly in General Parvez Mushraf's era. Despite this, the treasury benches of that time gave them the opportunity to speak on budget," he said adding that opposition parties after consultation would chalk out a further line of action.
Published in The Express Tribune, June 26th, 2021.
COMMENTS
Comments are moderated and generally will be posted if they are on-topic and not abusive.
For more information, please see our Comments FAQ