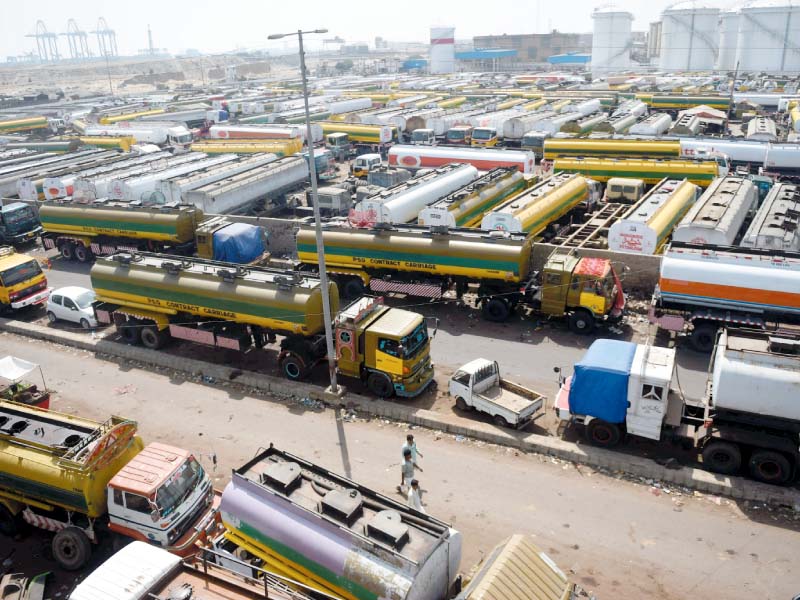 ---
KARACHI:
Petroleum oil transporters called off their strike on Friday and resumed fuel supplies with immediate effect after the government and private sector stakeholders accepted their demands and assured them of measures to resolve their issues.
The end of strike has averted the threat of fuel shortage at filling stations across the country.
A continuation of the strike beyond Friday would have sparked petrol crisis as most filling stations had only three-day oil stock. Moreover, it takes around four to five days to transport petrol and diesel through roads to the upcountry areas from the storage facilities at Karachi Port and other parts of the city.
"Our negotiations with the government have been successful," All Pakistan Oil Tankers Owners Association (APOTOA) spokesman Israr Ahmed Shinwari told The Express Tribune. "We have ended the strike and resumed supplies with immediate effect." The oil transporters had suspended supplies from Karachi to the filling stations on Thursday morning.
All Pakistan Oil Tankers Contractors Association (APOTCA) President Abidullah Afridi had given the strike call. APOTOA and other associations of oil transporters collaborated to negotiate with the government and get their demands accepted.
Government officials and oil marketing companies (OMCs) have agreed to end the computerised queue system for filling tankers at storage facilities and restore the old manual queue system.
Read: Fear of petrol shortage looms as oil tankers go on countrywide strike
"We know which tanker should be filled on priority for supplies to fuel stations in the city and across the country and which ones to be filled later and we follow it accordingly," he said. "The computerised system was causing delay in supplies to some parts of the country."
"Secondly, the government has accepted our demand to transport 50% of petrol and diesel through tankers and the remaining through a pipeline laid from Karachi to Punjab by oil refineries and OMCs," he said.
The refineries and OMCs transport around 60% of diesel through the White Oil Pipeline to the upcountry areas while the rest is transported through tankers.
The stakeholders upgraded the pipeline around six months ago to transport petrol through it, however, it could not be made functional due to some bureaucratic hurdles, it has been learnt.
Officials of the Federal Board of Revenue (FBR) agreed to review the taxes on oil transporters with the aim of reducing them, he said. The transporters said that the federal minister for petroleum had invited them for negotiations in Islamabad.
Published in The Express Tribune, June 26th, 2021.
Like Business on Facebook, follow @TribuneBiz on Twitter to stay informed and join in the conversation.