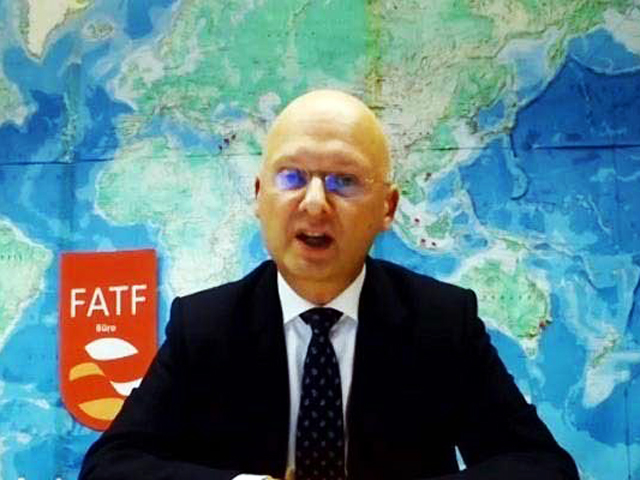 ---
ISLAMABAD:
The Financial Action Task Force (FATF) on Friday retained Pakistan on its grey list despite the country meeting 26 of the 27 conditions and handed it over a new six-point action plan, keeping Islamabad exposed to global pressure tactics.
The FATF-- the global body working to combat financing of terrorism and money laundering -- announced its decision at the conclusion of the watchdog's five-day virtual plenary meeting under the German presidency of Marcus Pleyer.
However, the FATF noted that Pakistan had completed all but one of the 27 items in the action plan and it had decided to keep it under "increased monitoring".
"The FATF encourages Pakistan to continue to make progress to address as soon as possible the one remaining CFT (combating the financing of terrorism)-related item by demonstrating that TF (terror financing) investigations and prosecutions target senior leaders and commanders of UN designated terrorist groups," according to the global body.
The remaining action item was the most significant among all in the view of the member countries including the US and India, which have circled Pakistan through the FATF platform.
Also read: India out to harm Pakistan at FATF: Qureshi
These countries have long been demanding through the FATF forum that Pakistan should target eight groups – the Afghan Taliban, Jamaat-ud-Dawa (JuD), Haqqani Network, Jaish-e-Mohammed (JeM), Lashkar-e-Taiba (LeT), Falah-e-Insaniyat Foundation, al-Qaeda and Islamic State.
Pakistan had been placed at the FATF grey list with effect from June 2018 and was asked to implement a 27-point action plan to exit the grey list.
The FATF president noted that since June 2018, when Pakistan made a high-level political commitment to work with it and its Asia/Pacific Group (APG) to strengthen its anti-money laundering and combating the financing of terrorism (AML/CFT) regime and to address its deficiencies, Islamabad had made significant progress on the global watchdog's action plan.
"The FATF recognises Pakistan's progress and efforts to address these CFT action plan items," he added.
|[The FATF] notes that since February 2021, Pakistan has made progress to complete two of the three remaining action items on demonstrating that effective, proportionate and dissuasive sanctions are imposed for TF convictions and that [country's] targeted financial sanctions regime was being used effectively to targeted terrorist assets," he added.
New action plan
In response to additional deficiencies later identified in Pakistan's 2019 APG Mutual Evaluation Report (MER), Pakistan has made progress to address a number of the recommended actions in the MER and provided further high-level commitment in June 2021 to address these strategic deficiencies pursuant to a new action plan, according to the FATF.
It said that the new action plan primarily focuses on combating money laundering.
"Pakistan should continue to work to address its strategically important AML/CFT deficiencies by enhancing international cooperation by amending the Mutual Legal Assistance law."
Pakistan has also been asked to demonstrate that assistance is being sought from foreign countries in implementing UNSCR 1373 designations; demonstrate that supervisors were conducting both on-site and off-site supervision commensurate with specific risks associated with designated non-financial businesses and persons (DNFBPs), including applying appropriate sanctions where necessary.
The focus on the DNFBPs means there will be tighter scrutiny of real estate agents, jewellers, lawyers and chartered accountants, said an official, who has remained part of these discussions.
According to another new condition by the FATF, Pakistan will have to demonstrate that proportionate and dissuasive sanctions are applied consistently to all legal persons and legal arrangements for non-compliance with beneficial ownership requirements.
Read more: FATF has no more ground to keep Pakistan in grey list: FM
It will also be required to demonstrate an increase in money laundering investigations and prosecutions and that proceeds of crime continue to be restrained and confiscated in line with Pakistan's risk profile, including working with foreign counterparts to trace, freeze, and confiscate assets.
Lastly, Pakistan would have to demonstrate that DNFBPs were being monitored for compliance with proliferation financing requirements and that sanctions were being imposed for non-compliance.
The FATF discussed Pakistan's progress report on 2018 Action Plan and Post-Observation Period Report (POPR) in its virtual Plenary held on February 23, 2021, said the finance ministry.
In relation to POPR, the FATF acknowledged Pakistan's significant progress and continuation of Pakistan's high-level commitment.
A total of 82 deficiencies were highlighted in Pakistan's 2019 MER which were included in the POPR as 67 recommended actions in 11 immediate outcomes, on which Pakistan reported progress, the ministry added.
As a result of the progress made since the MER 2019, the FATF approved a seven-point ML-centric action plan to be implemented by Pakistan.
It further said Pakistan had already provided its political commitment to FATF for implementation of the new action plan.
Pakistan has suffered a staggering economic loss of $38 billion because of the FATF's decision of retaining the country on its grey list since 2008, according to a new research paper published by an independent think-tank, Tabadlab.
The paper, "Bearing the cost of global politics -- the impact of FATF grey-listing on Pakistan's economy", has been written by Dr Naafey Sardar.
COMMENTS
Comments are moderated and generally will be posted if they are on-topic and not abusive.
For more information, please see our Comments FAQ