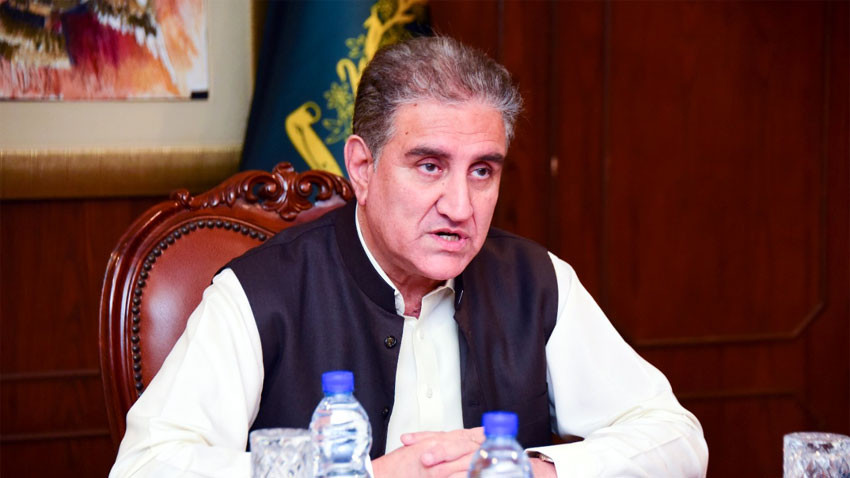 ---
ISLAMABAD:
The future of the country could not be put at stake for the International Monetary Fund (IMF), Foreign Minister Shah Mahmood Qureshi said on Tuesday, as he defended the tough measures adopted by the government to stabilise the national economy.
Speaking in an Express News programme, the foreign minister said that Pakistan had fulfilled all the 27 conditions of the Financial Action Task Force (FATF), therefore there was no justification for the global financial watchdog to keep the country in its grey list.
Foreign Minister Qureshi blamed both the issues – the IMF loans and the FATF grey list – on the wrong policies of the previous Pakistan Muslim League-Nawaz (PML-N) and the Pakistan Peoples Party (PPP) governments in the past decade.
"It was due to the performance of the previous governments that we had to go to the IMF," he said. "[Pakistan] People's Party and the Muslim League-Nawaz are responsible for pushing the country towards a [deal with the] IMF," he added.
"Now, we have taken measures [to overcome the situation]," he said. Asked about the IMF conditions, he said: "It isn't the right thing to say that whatever IMF says is right. It isn't possible to accept every demand of the fund as it is."
The foreign minister admitted that the Pakistan Tehreek-e-Insaf (PTI) government took difficult measures during the first three years of its rule, which burdened the masses but added that the country needed to pay attention to its economic development.
FATF grey list
"When PTI came to power, Pakistan had already gone into the [FAFT] grey list," Qureshi said. Holding the PML-N responsible for the tough conditions set by FATF, he said that the no previous government took steps to curb money laundering and terrorist financing.
Read more: Pakistan one point shy of meeting FATF conditions
the minister said that nations faced pressures in these situations so "we should [also] bear this pressure". He added: "We are trying to deal with these implications. We are taking our decisions in the national interest. Our government's economic priorities are being appreciated in the world."
Now, Qureshi continued, Pakistan had fulfilled the 27 conditions of the FATF, therefore, "there are no grounds to keep Pakistan into the grey list. "The gift of grey list was also given by the PML-N," he said, adding: "Now there is no justification for keeping Pakistan into the grey list."
Qureshi said that India should hold an independent referendum to get the opinion of Kashmiris around the world. He stressed that if the Kashmiris rejected India's unilateral measures, New Delhi would have to reconsider its decisions.
Responding to a question about the Afghan peace process, the foreign minister described the situation in Pakistan's north-western neighbour as "worrying". However, he emphasised: "as a neighbour, we want peace and stability in Afghanistan."