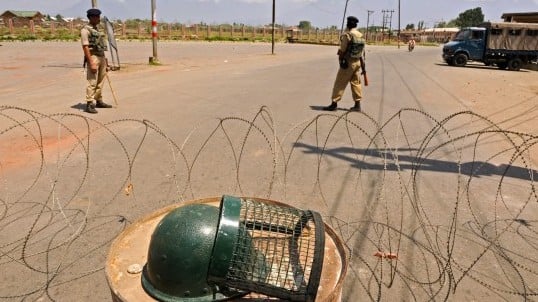 ---
NEW DEHLI:
Kashmiri politicians on Thursday reiterated their demand for restoration of statehood of Indian Illegally Occupied Jammu and Kashmir.
The demand came during first interaction 14 party leaders with Indian Prime Minister Narendra Modi since New Delhi scrapped the disputed region's special status in 2019, detaining thousands of people and imposing a months-long lockdown.
Modi told the participants that he was committed to the restoration of Kashmir's statehood.
There was no announcement of any major decision after the three hours of talks in New Delhi except Modi telling the participating politicians that elections would be held there after the region's constituencies were reconfigured.
Apni Party chief Altaf Bukhari, one of the participants, said after the meeting that Modi heard the issues raised by all the participants.
"The Prime Minister asked all to participate in the delimitation process. We have been assured that this is the roadmap towards elections. Prime Minister also said that we are committed to the restoration of statehood," Bukhari said, according to Indian news agency ANI.
Read more: India's Modi to hold first talks with occupied Kashmir leaders since removal of autonomy
Congress leader Ghulam Nabi Azad, who was also present in the meeting quoted Home Minister Amit Shah as saying that the government was committed to granting statehood to Jammu and Kashmir, according to a Hindustan Times report.
Modi's Hindu nationalist government in August 2019 downgraded the IIOJK's status, split it into two union territories — Ladakh and Jammu-Kashmir — and removed inherited protections on the land and the jobs for the local population.
Since then, Indian authorities have imposed a slew of administrative changes through new laws that triggered anger as many likened the moves to the beginning of settler colonialism. Most Kashmiris support the goal that the territory be united with Pakistan.
Modi chaired the meeting in New Delhi attended by the region's 14 political leaders, including his own party members. India's powerful home minister, Amit Shah, and New Delhi's administrator in the region, Manoj Sinha, also attended the meeting.
Among those invited were IIOJK's four former chief ministers: Azad, Farooq Abdullah, his son Omar Abdullah, and Mehbooba Mufti, whose People's Democratic Party (PDP) was a coalition partner of Modi's Bharatiya Janata Party (BJP) for nearly two years after the 2016 IIOJK elections.
The four and a few other invited leaders were among thousands arrested and held for months in 2019. They have criticised India's policies and formed an alliance with four other parties to fight them, calling them "spitefully short-sighted and unconstitutional."
Modi later took to Twitter to reiterate the line that he had taken in the roughly three-hour talks in New Delhi. "Delimitation has to happen at a quick pace so that polls can happen and J&K gets an elected government that gives strength to J&K's development trajectory," he said.
However, the participants of the meeting said they pressed for their demand for restoration of statehood and limited autonomy at the talks. "All leaders demanded full-fledged statehood," Congress leader Ghulam Nabi Azad said.
"We told PM that we don't stand with what was done on 5th Aug 2019," said Omar Abdullah, leader of the regional party National Conference. "We're not ready to accept it, but we won't take law into hands, we will fight this in court."
"I spoke about the pain and anger and frustration among the people of Jammu and Kashmir since August 2019, about how they feel humiliated," said Mufti. "I said people of J&K are facing a lot of problems ... even if they breathe loudly they are jailed."
A six-party People's Alliance for Gupkar Declaration (PAGD) that was formed in the aftermath of the August 2019 decisions under the leadership of Farooq Abdullah, said its leaders stuck to the demands and told Modi during the meeting that the region's semi-autonomous powers should be restored.
Yousuf Tarigami, spokesperson for the alliance told reporters after the meeting that they did not get any concrete assurances from Modi and Shah to "our concerns, demands and aspirations". Shah later said the government "stressed to strengthen the democratic process" in the region.
Four former deputy chief ministers were also in attendance: Congress' Tara Chand, People's Conference's Muzaffar Hussain Baig and BJP's Nirmal Singh and Kavinder Gupta. India's state minister at Prime Minister Office Jitendra Singh and Union Home Secretary Ajay Bhalla also present.
Tarigami, also a leader of the Communist Party of India-Marxist (CPI-M), Jammu and Kashmir Apni Party (JKAP) chief Altaf Bukhari, Sajjad Lone of the People's Conference, J-K Congress head G A Mir, and Panthers Party leader Bhim Singh also formed part of the delegation. AGENCIES
(WITH INPUT FROM NEWS DESK)
COMMENTS
Comments are moderated and generally will be posted if they are on-topic and not abusive.
For more information, please see our Comments FAQ