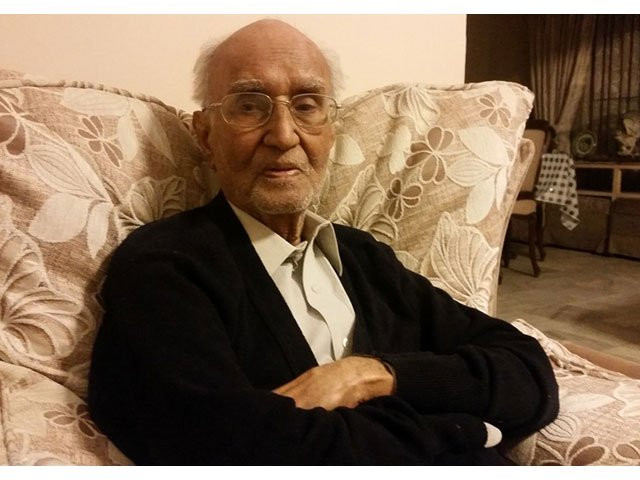 ---
KARACHI:
The Arts Council of Pakistan (ACP) Karachi paid tribute to celebrated writer and humourist Mushtaq Ahmed Yusufi on his third death anniversary on Wednesday. Literati from across the country - some present physically and others joining in via video link - spoke in remembrance of the late satirist.
He was dubbed the greatest Urdu prose writer of all times.
Speaking on the occasion, ACP Karachi President Ahmed Shah expressed gratitude to Yusufi's family for their efforts towards ensuring that future generations can enjoy the rare collection of the later writer's manuscripts.
Similarly, artist Shahid Rassam, joining in from Lahore, expressed hope that the way Yusufi's creative works are being brought to the fore will add to his popularity. He said that the satirist was the "life of the party" and a friend to all those who knew him.
"People say poetry is a difficult genre, but in my personal opinion, humour and satire are the most difficult genres of literature," said poet and scriptwriter Zehra Nigah. She recalled that Yusufi, a distinguished banker, made his mark on the literary scene with the publication of his first book. The way he wrote prose and evoked meaning is commendable, she added.
Read more: Writer of Saiful Malook remembered
Joining in virtually from Islamabad, litterateur Iftikhar Arif said that the late author was a multifaceted person. "I shared a unique relation of love and compassion with him. He was my mentor and his teachings are my assets." He is the greatest Urdu prose writer, not just of our time but for all times, added Arif.
Poet Dr Fatima Hassan recalled her friendship with Yusufi fondly and expressed gratitude for his mentorship. "The greatest quality of his humour was that he would make fun of himself, not others."
Speaking via video link from Lahore scholar Dr Nomanul Haq appreciated Yusufi's love and respect for the tenets of the Urdu language.
The participants remembered Yusufi's lighthearted collection of essays, Chiragh Talay, fondly and recalled that the late satirist's love for Urdu was such that he abandoned the use of the English language.
Published in The Express Tribune, June 24th, 2021.
COMMENTS
Comments are moderated and generally will be posted if they are on-topic and not abusive.
For more information, please see our Comments FAQ