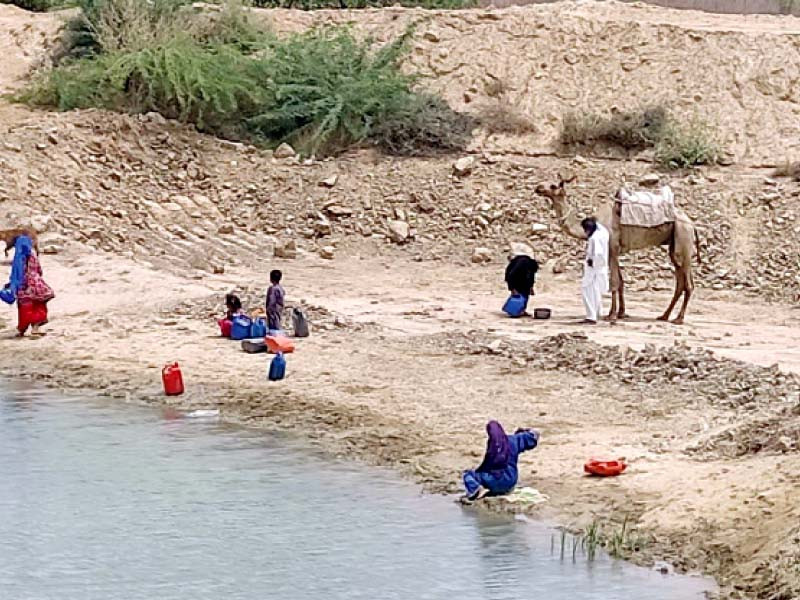 ---
KARACHI:
The coastal belt of Hawke's Bay has been a popular recreational spot for picknickers for the past many decades. Summer evenings are particularly abuzz, with thousands of holidaymakers thronging to the sea front every weekend, to enjoy the cool breeze of the Arabian Sea and escape Karachi's otherwise sweltering heat.
However, where the bay continues to be a paradise for its visitors, each day is a new nightmare for those who live here; still deprived of access to drinking water, electricity and other necessities.
Ali Bhand is a local fisherman who lives in a mud house in Budhni Goth - one out of the 30 smaller villages scattered along the greater Hawke's Bay area, where access to clean drinking water is a daily struggle. "We do not have electricity, but the few who can afford still make do with solar panels. But water is a necessity without which sustaining life is not possible. So our women and children have to journey several kilometres on foot every day, just to fetch a pale of water for the family," said the fisherman, speaking to The Express Tribune.
Thirst often takes the villagers to ponds fed by water from surrounds hills and hillocks, not too far from the border of the neighbouring Balochistan province.
10-year-old Shaman and his sisters, come to the pond almost every other day from their house in nearby Haju Ghulam Goth. He often steals a few moments to take a quick dip into the pond while his sisters are busy filling the pales they carried here on their donkey cart. The donkey too is let off its reins to quench its thirst from the same pond. "The ponds give us life. Everyone in the nearby villages depends on them for drinking water; even the animals," said Shaman, before playfully diving into the shallow waters.
Smaller ponds however, dry out after a short period. This, for Shaman and his sisters will mean a much longer journey in their quest of potable water.
According to former Gabo Pat union council vice chairperson Muhammad Ali Bhand, the Sindh government has formally developed some of the natural ponds as dams by erecting wall where required. "These water reservoirs store rainwater as per their capacity. However, these are not enough, as small reservoirs dry out in short time," said Bhand, pointing out three to four spots where rainwater is stored in the area.
A nine-year-old water reservoir in Darya Khan Goth, inaugurated in 2012 by then minister for katchi abadis Nadeem Ahmed Bhutto, had reportedly dried out not too long ago. However, there was also a well near the reservoir, which has since continued to cater to the water needs of surrounding villages. "This single well feeds at least five nearby villages, as well as their camels that drink from here. People carry buckets of water to their homes every day," said the well's caretaker, Allahdad Bhand.
Poverty is another pertinent issue in the area, where a majority of the local population has next to negligible chances of upward social mobility.
Abdul Rehman is local fisherman from Manjhar. His main source of income, like others in the region, is fishing. "Life is hard here and everyone survives on the bare minimum. But months from May to August are the worst for fishermen like us as we cannot go into the sea," he told.
During this period, children from surrounding villages can be seen camped on both sides of the road leading to Mubarak Village; waiting for picknickers to beg from.
"We don't go to school, because we don't have any schools here," said 13-year old Akbar, who like other children from the villages, has never received any formal education. "People here go to religious seminaries instead," he added.
Hawke's Bay locals alleged that some villages in the area do have school buildings, but none are functional and rather remain hallow edifices gathering dust. In this regard, the former Gabo Pat UC vice chairperson said that the matter has been conveyed to the relevant authorities of the educational department several times. "The schools however still remain nonfunctional, which shows that our pleas have fallen on deaf ears," he told The Express Tribune.
Published in The Express Tribune, June 23rd, 2021.