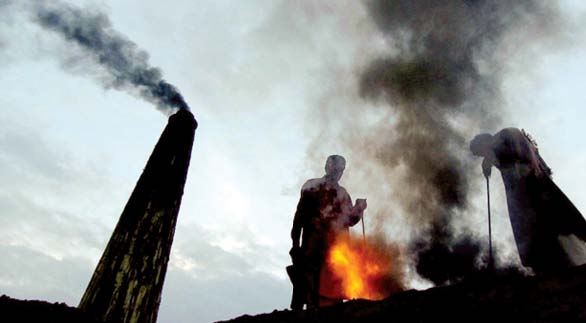 ---
LAHORE:
Punjab Environment Protection Department has estimated that conversion of almost all 11,0000 brick kilns in the province to the zigzag technology has helped reduce air pollution by about 15%.
Amid continuing technical assistance in the field, British Minister of State for South Asia and tbe Commonwealth Lord Tariq Ahmed visited several kilns in Lahore to review a plan to train the kiln owners about the safer technology for environment.
There are about 11,000 kilns in Punjab and most of them have switched to zigzag technology under a government plan.
In this regard, training is being given by the United Kingdom to the kiln owners about the environment-friendly technology.
During his visit to a modified kiln near Lahore, Lord Ahmed termed the conversion to zigzag design very important.
Read more: PM launches urban forestry on lines of Miyawaki method to fight pollution
The visiting leader said efforts to improve the kilns in the country needed to continue. He said the British government had joined hands with Pakistan's authorities to bring modern technology to the country. The technology will improve the environment and people's health. Attention is being paid to climate change worldwide, and it is important to promote this technology in Pakistan.He said Pakistan needs to make serious efforts to tackle climate change.
Zigzag technology will reduce air pollution, including smoke and a reduction of 15% in the air pollution level has already been recorded.
British High Commissioner Kirsten Turner and senior officials were also present on the occasion.
The secretary general of All Pakistan Kiln Owners Association, Mehar Abdul Haq, said that positive results of the zigzag technology had started coming.
Global organisations, including the International Centre for Integrated Mountain Development (ICIMOD), are training kiln workers and workshops are being held in this regard.
He said officials of the federal ministry of climate change are also playing their role in converting the brick kilns to the less hazardous technology, while the British embassy is also providing assistance for the training.
The leader of kiln owners said converting the traditional brick kiln system to modern technology was a difficult task. It required investment and training.
He said many kiln owners were not ready to take the risk, but efforts and hard work of their representative organisation had helped improve about 11,000 kilns in Punjab.
Abdul Haq said the conversion not only reduces pollution but also has a positive impact on the health of kiln workers.
There are dozens of brick kilns around Lahore.
According to local people, the smoke coming out of the chimneys of the kilns has turned white for some time now.
"This smoke is not as dangerous as before. When black smoke arose, not only was the environment polluted, but carbon particles also fell on our homes and crops and entered our bodies through respiration, causing various diseases," said Rana Ahmed Hassan, a resident of an area near kilns on the outskirts of the provincial capital.
He said there were four brick kilns a few metres away from his house. When black smoke emanated from them, the courtyard, roof and clothes in his house blackened. Now there is a change in the environment, This is a good move and it should be pursued further, he added.
Published in The Express Tribune, June 23rd, 2021.
COMMENTS
Comments are moderated and generally will be posted if they are on-topic and not abusive.
For more information, please see our Comments FAQ