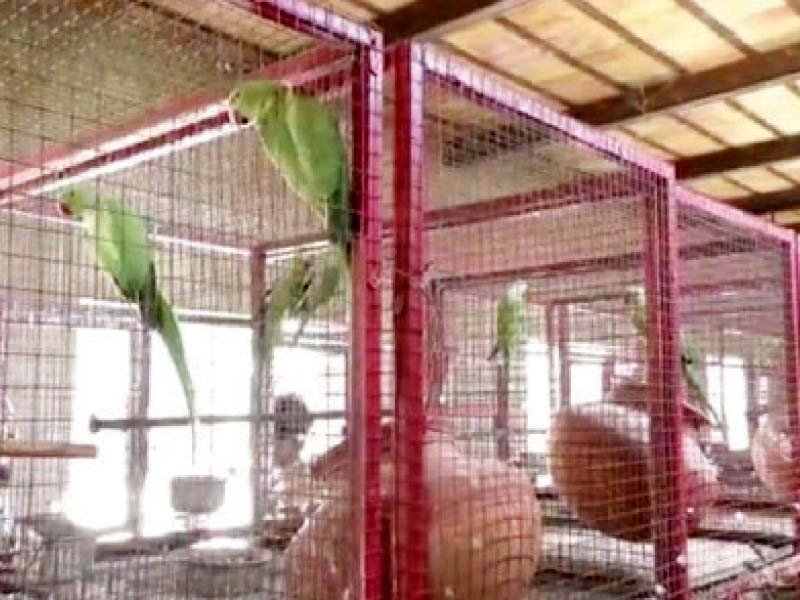 ---
FORT ABBAS:
With wildlife is becoming increasingly extinct due to relentless deforestation and hunting, human-friendly and beautiful parrots are now rarely seen in the natural environment.
Raw and Desi parrots are among the birds that migrate from neighboring countries to the border areas of Pakistan. Although they are now becoming rare, bird lovers are breeding and preserving them for future generations.
Apart from a hobby, it is also a lucrative business. Despite the government's non-cooperation, the locals of Fort Abbas are working on their own to save the species of parrot. A local farmer, Musab Abdul Haleem, said while speaking to The Express Tribune that raw parrot is a beautiful talking bird that flies from India to Pakistan in the areas of Cholistan desert in South Punjab, including Fort Abbas, Bahawalnagar and Manchinabad, between August and December.
Read more: Deforestation means end of tourism: SC
Catching the bird forbidden but hunters seize it and sell it at high prices. It is bred in large farms and sold all over Pakistan.
Big farmers not only enjoy the hobby but also do business through the trade, Haleem said. Another farmer, Khabeebur Rehman, said there were three types of parrots in Pakistan including Katha or Desi, Kashmiri Pahari and Lal Sara or plum headed. The first two species are found in the Cholistan, while very few of plum-headed parrots are found in Sialkot, Narowal and Kashmir.
Qari Abdul Hanan, who is the top parrot breeder in Bahawalpur division, said it is necessary to take a two-year-old pair for breeding because the bird starts laying eggs after eight months for two to three times a year.
"Their lifespan is 60 to 65 years, about the same as humans. Female parrots lay eggs for 30 years. The price of a pair of a good breed of parrots is around Rs50,000. It is sold at high price not only in Pakistan but also abroad after breeding," Hanan added.
He said everyone liked raw parrots because they spoke sweetly and attracted children as well as adults. They are fondly bred at home. Local parrot lovers Mohammad Shehzad Zafar and Mian Andal Wajid said the government should enforce the ban on parrot hunting and protect the rare species to save them from extinction.
Published in The Express Tribune, June 23rd, 2021.
COMMENTS
Comments are moderated and generally will be posted if they are on-topic and not abusive.
For more information, please see our Comments FAQ