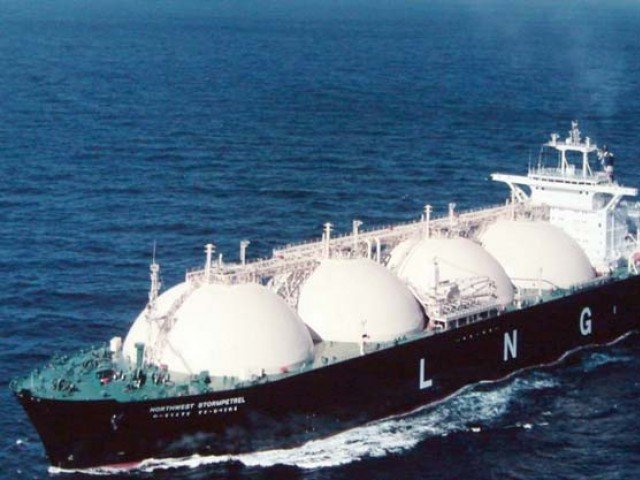 ---
ISLAMABAD:
The dry-docking in peak summer season will cost state-run energy companies and consumers around $40 million. In addition to the hefty price, the country is also facing an energy crisis if the Engro LNG terminal goes on dry docking after June 30, 2021.
Sources said that the oil and gas companies had informed the government that consumers would be facing a burden of $25 million due to substitute fuel of furnace oil and high speed diesel in power plants to generate electricity.
Sui Northern Gas Pipelines Limited (SNGPL) has take-or-pay agreements with power plants. In case, it is unable to provide gas to such power plants, it would have to pay damages that amount to around $7 million.
Similarly, Sui Southern Gas Company Limited (SSGCL) also has take-or-pay deals with the gas consumers. It will have to pay $5 million to its clients in case it is unable to provide gas to the customers. Pakistan State Oil (PSO) may also pay damages worth $3 million as it also has take-or-pay agreement with LNG supplier in case it is unable to take supplies due to absence of the Engro LNG terminal.
The summer season has resulted in increased demand for electricity in the country. PSO imports 600 million cubic feet per day (mmcfd) LNG, which is handled on the Engro LNG terminal. Due to dry docking, this gas will be out of the system. SSGC informed the government that only 400 mmcfd LNG will be available after dry docking of the Engro LNG terminal. The second LNG terminal will be dealing with it. Hence, SNGPL was not in favour of dry docking during this month when the demand for gas was high due to rising demand of electricity generation.
Due to the imminent gas crisis, the government had also planned to suspend gas supply to CNG and industries in Punjab and Khyber-Pakhtunkhwa province, a move which the CNG industry had opposed. Sources said that Engro had delayed in serving notice to the government. As per the agreement, it had to serve notice one year before while also submitting an entire plan.
Officials said that months for dry docking were March and October. However, Engro had failed to serve a notice for dry docking. Now, it had come in an emergency that its insurance certificates were going to expire on June 30 and therefore was seeking permission for dry docking.
Sources further said that under the agreement, Engro is bound to make alternate arrangements if its dry docking exceeds the scheduled time.
They further said that delaying tactics on part of Engro were to replace the existing LNG floating terminal with a bigger one. Officials said that SSGC would have to amend the entire LNG service agreement if Engro seeks permission to utilise the additional capacity of terminal. At present, the power sector is generating 25,000MW electricity to meet demand of the country.
After a dry docking, there is an impending crisis of furnace oil and gas. PSO had floated a tender to import furnace oil. But it had to cancel this tender due to higher price of Rs120,000 metric tons against the price of Rs65,000 per ton in local market. PSO is again arranging furnace oil to meet demand in case the government allows Engro terminal for dry docking.
Engro version
Meanwhile, Engro said that the planned dry docking of LNG Floating Storage Regasification Unit (FSRU) Exquisite, currently in use by Engro Elengy Terminal (EETL), by June 30 is in accordance with the supply agreement with SSGC and unavoidable under international laws.
Read more: LNG consumers pay extra $99m
EETL, which has been in discussion about dry docking with SSGC and all relevant government stakeholders since October 2019, notified them about updates on the dry dock activity on March 30, 2021, after a survey report issued by the Class Society - responsible to maintain overseas certifications of FSRU under international laws - made it clear that FSRU Exquisite must be sent for dry docking latest by June 30, 2021. The Class Society had already extended the certifications twice due to Covid-induced disruptions that led to port shutdowns and unavailability of experts. Excelerate, the US firm that owns FSRU Exquisite, has also confirmed that the vessel cannot be operated without Class Society certifications beyond the end of June.
Since the March notification to stakeholders, namely SSGC, SNGPL and PSO, EETL held multiple meetings to seek their cooperation and flexibility to update the annual delivery plan to accommodate the dry dock activity. Under the agreement, the annual delivery plan is non-binding and changes in the plan are an operational norm to ensure coordination amongst all stakeholders for any contingency planning. However, no progress was made as SSGC feared exposure to liquidity damages from SNGPL for any disruption in gas supplies.
Therefore, SSGC continued to resist change in the annual plan to allow for the mandatory dry dock activity to maintain class certificates and as required under the LSA as well. As the deadlock persisted, the matter was escalated to the Ministry of Energy and, subsequently, it was put forward before the Cabinet Committee on Energy (CCOE).
According to an Engro official, "Engro Elengy and the operators of Exquisite had made their best efforts to coincide the vessel replacement with shutdown already planned by the gas companies for August. In previous engagements, the stakeholders had never raised any concerns about dry docking around the end of June as long as the liquidity damages from SNGPL were waived off to SSGC which was an inter-ministerial matter."
The official added, "Under the agreement with SSGC, the FSRU is required to dry dock twice over the 15-year period. The dry-docking period is counted as shutdown days and the prior notification to all stakeholders was given to ensure adequate planning for the country's energy needs. Vessel integrity related shutdowns are always managed mutually, but this activity has been trivialised, which has caused a delay in decision making.
We are continuously engaging with all stakeholders and seeking their support to ensure the dry-docking activity and switch over with more capable FSRU Sequoia is done smoothly. The dry dock shutdown can be for more than three months, however, the replacement ship will enable for regasification services to resume within three to four days."
The replacement ship Sequoia, arranged by EETL at its own cost and risk, is expected to reach Pakistan on June 26. The company has assured all stakeholders that Sequoia is a more capable and efficient vessel, with a regasification capacity of 780 mmcfd, that will meet all performance obligations under the agreement.
Published in The Express Tribune, June 23rd, 2021.
Like Business on Facebook, follow @TribuneBiz on Twitter to stay informed and join in the conversation.