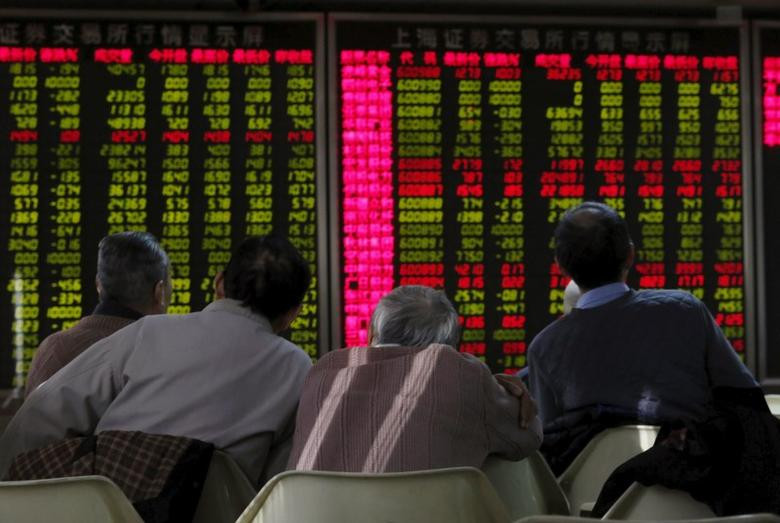 ---
KARACHI:
The stock market fell below 48,000 points in a roller coaster ride on Tuesday as investor sentiment weakened amid a lack of triggers.
Furthermore, concerns over the Financial Action Task Force (FATF) report, scheduled to be released on June 25, kept market participants on the sidelines and trading remained lacklustre.
Additionally, depreciation of the rupee against the US dollar sparked inflationary concerns, dampening investor interest. Cement, fertiliser and pharmaceutical sectors bore the brunt of weak investor spirits and faced a modest sell-off.
Earlier, trading kicked off on a positive note with the index marching upwards in early hours. However, concerns over the FATF review coupled with the lack of positive news flow pulled the market into the red zone by noon.
Market participants made an attempt to lift the index upwards in later hours, but widespread profit-taking kept it in the red.
At close, the benchmark KSE-100 index recorded a decrease of 25.38 points, or 0.05%, to settle at 47,987.14.
Arif Habib Limited, in its report, stated that the market remained depressed and traded in a narrow range of -81 points and +142 points. It closed the session down by 25 points.
The lack of direction and docile reaction to price triggers (particularly the increase in crude oil prices) kept activity subdued in the market. Selling pressure was evident in cement, exploration and production, oil and gas marketing, steel, technology and power sectors.
The textile sector did see some positive activity with Nishat Chunian, Nishat Mills, Gul Ahmed Textile Mills and Interloop showing a better price performance, the report said.
JS Global analyst Maaz Mulla said that the market started off on a positive note, but soon came under pressure as it dipped to a low of 47,931 points.
Despite best efforts of the bulls to give a boost to the KSE-100 index during the second half, the benchmark index slid again to close the session with a loss of 25 points at 47,987.
Silkbank (-2.8%), WorldCall Telecom (-3.5%), Azgard Nine (+7.5%), K-Electric (-1.7%) and TPL (+7.5%) were the volume leaders of the day as they cumulatively contributed 37% of the total shares traded.
On the news front, the US dollar strengthened to Rs157.60.
Selling pressure persisted in the cement sector where Pioneer Cement (-1.4%), Cherat Cement (-1.1%), Dewan Cement (-0.8%) and Flying Cement (-1.5%) closed lower.
The bullish rally in the textile sector was fuelled by news of healthy textile exports in May. As a result, Kohinoor Textile Mills (+5.3%), Gul Ahmed Textile Mills (+7.5%), Nishat Chunian (+4%) and Nishat Mills (+2%) moved up.
"Going forward, we expect volatility in the market due to the rollover week and recommend investors to view any downside as an opportunity to buy stocks of construction and export-oriented sectors," the analyst said.
Overall trading volumes dropped to 610.7 million shares compared with Monday's tally of 839.2 million. The value of shares traded during the day was Rs15.5 billion.
Shares of 420 companies were traded. At the end of the day, 162 stocks closed higher, 236 declined and 22 remained unchanged.
Silkbank was the volume leader with 75.4 million shares, losing Rs0.06 to close at Rs2.08. It was followed by WorldCall Telecom with 48.2 million shares, losing Rs0.14 to close at Rs3.86 and K-Electric with 37.4 million shares, losing Rs0.07 to close at Rs4.12.
COMMENTS
Comments are moderated and generally will be posted if they are on-topic and not abusive.
For more information, please see our Comments FAQ