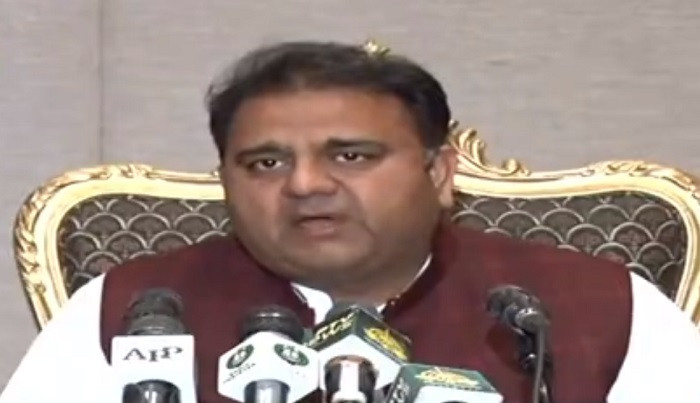 ---
ISLAMABAD:
Information Minister Fawad Chaudhry on Tuesday said that the Election Commission of Pakistan, as an administrative institution of the country, is responsible for acting as per the law and conducting the next general elections using electronic voting machines (EVMs)
"The ECP is bound to act as per the law passed by the Parliament. It is the responsibility of ECP officials to ensure that the next [general] elections are conducted through electronic voting," Fawad said while briefing the media after the federal Cabinet's weekly meeting.
"It is up to the Supreme Court to issue decisions on the laws that come in conflict with the Constitution," added Fawad.
"On the technological side [of the EVMs], we have a comprehensive strategy in place and we are in the position to develop the machines," said Fawad and added that the ECP should begin using the EVMs prior to the general elections, at a local level [by-polls], so that the method can win the trust of the people and any issues are dealt with."
Overseas Pakistanis
Fawad said in terms of i-Voting, "we want to bring overseas Pakistanis in the voting process at all costs and facilitate them in this regard".
"I don't understand why Pakistan Muslim League-Nawaz (PML-N) and Pakistan Peoples Party (PPP) are afraid of overseas Pakistanis."
"They seem to think all overseas Pakistanis will vote for [Prime Minister] Imran Khan, so the matter of electoral reforms has come to a standstill."
"The reason the economy is growing at a rate of four per cent today is because of the remittances sent by the overseas Pakistanis," he added.
Why weren't expatriates sending such remittances earlier," he asked and added, "it's because they trust Imran Khan."
"They [expatriates] don't trust Asif Ali Zardari, Nawaz Sharif or Shehbaz Sharif as they fear that they will misuse their money and that's what had been happening [during the previous rules]."
He further said the "PML-N and PPP want to keep expatriates out of the electoral process at all costs". "[On the other hand] we are determined to bring them [overseas Pakistanis] in the voting system."