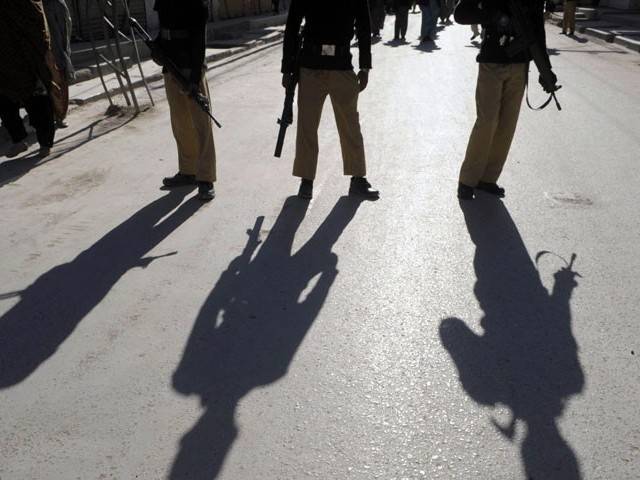 ---
KARACHI:
The Sindh Police have booked four rogue cops for injuring two teenagers in a staged encounter, officials said on Monday.
The Sachal Police registered a case under Section 324 of the Pakistan Penal Code [relating to attempt to murder] read with Section 34 of the PPC on the complaint of the father of one of the victims.
Dostain Khan, a transporter by profession, has nominated ASI Asghar Ali, Constable Sabir, driver Bahadur and policeman Andul Qadir for opening fire on his son Baitullah, 15, and his friend Asif, 14. Both the victims are cousins and school children, Dostain said, adding that Baitullah was going to drop Asif at his uncle's tailor shop where he work as an apprentice after school and on weekends.
Read more: PTI leader seeks case against police over 'fake encounter'
Baitullah's father in his complaint stated that the policemen opened fire on the children for not stopping immediately when signalled.
On Monday afternoon, Baitullah, lying on a hospital bed at the Jinnah Postgraduate Medical Centre (JPMC) confirmed that he was ready to record his statement to the police. He said that he was passing by the Al-Asif intersection near Sohrab Goth on a bike with his cousin Asif Gondal on Sunday afternoon when suddenly some policemen signalled them to stop.
Baitullah said he could not pullover to the side immediately due to traffic coming from behind and stopped after a short distance and also raised their hands. "However the police opened straight fire on us," he stated. The injured youth said that the policemen handcuffed them in injured condition and kept saying "you people are muggers, thieves, we have recovered stolen mobile phones and illegal weapons from you." He said that the cops then hauled them away in a car to JPMC. "At hospital we were handcuffed to the bed which was opened only when the doctors came to operate on the injuries," the 15-year-old said narrating his trauma of police brutality.
The four suspects are already behind bars in the lock up of the Sachal police station, the same precinct they were serving at.
Earlier on Sunday, the Sachal Police had claimed to have caught two alleged muggers in injured condition after an encounter near Al-Asif Square close to Sohrab Goth. However, they did not send the video and images of the crime scene to senior officers. Meanwhile, the family members of the victims, Baitullah and Asif, held a protest at the Sachal police station.
Subsequently, Sachal zone DSP made a survey of the crime and according to his report, he did not find any shell of the so-called bullets fired by the alleged muggers who the four policemen had shot and injured in retaliatory fire. Terming the whole episode an act of 'criminal negligence', he ordered the arrest of ASI Asghar Ali, Constable Sabir, driver Bahadur and policeman Andul Qadir and opened an inquiry against them.
Published in The Express Tribune, June 22nd, 2021.