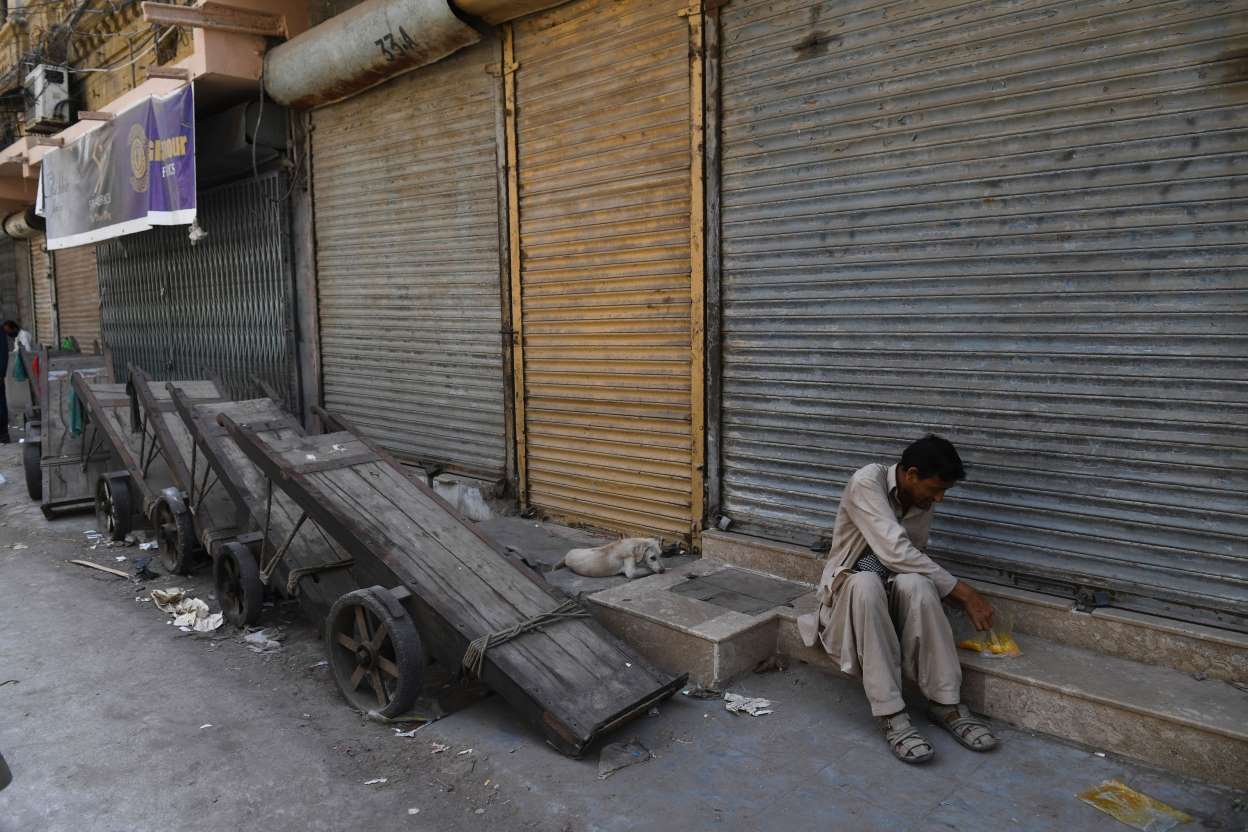 ---
KARACHI:
The Sindh government has set the minimum wage at Rs25,000 in the budget for the upcoming fiscal year 2021-22. Amid increasing inflation and a pandemic-hit economy, where unemployment is rife, the Rs7,500 boost to the Rs17,500 minimum wage set in 2019 is a welcome and laudable move.
But is this amount enough to meet the needs of an average family, and can the government effectively ensure implementation given exploitative labour practices that prevail in most industries? Economists and labour rights activists think otherwise.
According to Pakistan Institute of Labour Education and Research Executive Director Karamat Ali, the minimum wage should be at least Rs35,000 to enable a worker make ends meet.
While he appreciates the increase in the minimum wage, he feels there is a need to raise it further.
Read more: Doctors reject policy of recruitment on daily wages
And this can only happen if the decision makers have a better understanding of the problem, he explains.
"They need to research and identify daily-use items in [an average] household and keep the [growing] inflation in mind. They will then come up with a different number [for the minimum wage]."
But the minimum wage board, the body responsible for fixing the minimum wage in the province, seemingly failed at the task, according to Ali.
Explaining why Rs25,000 may not suffice to run an average household, National Trade Union Federation general secretary Nasir Mansoor, breaks down the numbers.
"Even the most basic of accommodation is being rented for Rs10,000 per month. Then there is bus fare for daily travel that is likely to cost around Rs100 for a day. Keep at least Rs2,000 for electricity bills, and another Rs300 for daily-use items such as milk and flour, for a day. Then there are school tuition fees, medical expenses and other expenditures that have to be paid for," he says. "Does the government think it doable [for workers to survive on a minimum wage of Rs25,000]?"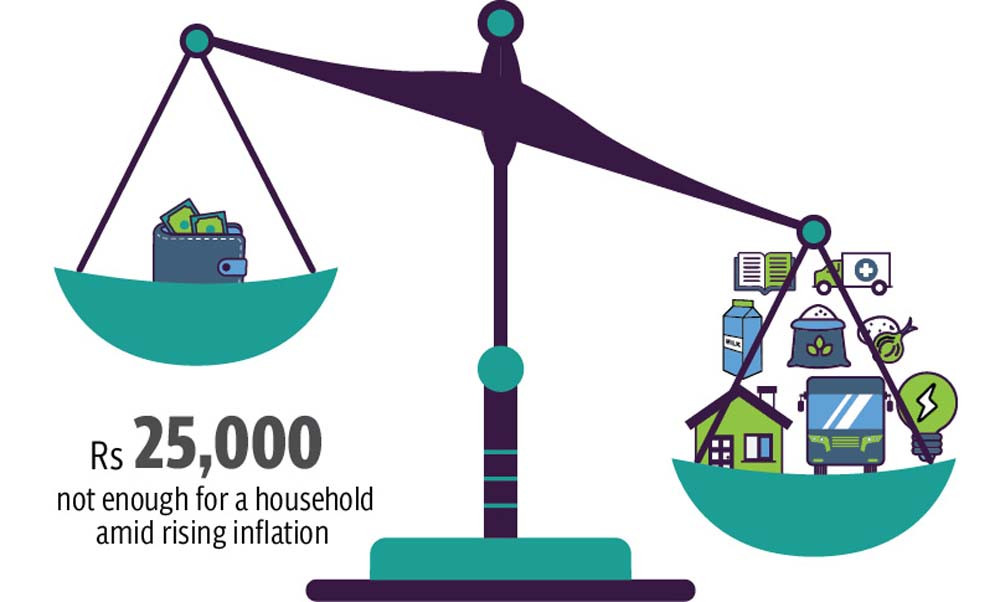 DESIGN : IBRAHIM YAHYA
Workers' plight
No for Seema Khan, who has been working for a meagre pay since she was 14 years old. But she has no other choice.
Khan says she began working at a factory at the age of 14 for a pay of just Rs1,500 per month after her father died and she had to support her family, which included her six sisters. She didn't have a choice then.
She is now a supervisor in a company but still doesn't earn enough to justify the number of hours she puts in. But she can neither leave her job, nor file a complaint against her employer. She still doesn't have a choice.
D*, who works a 12-hour shift six days a week, earns just Rs22,000 per month. He is fortunate to have some additional support in the form of his father's pension collected by his mother. Yet, there are three family members that depend on him for their financial needs, and every day is a new struggle for him. He, too, doesn't have a choice but to face exploitation at workplace and continue working for a minimal pay.
Exploitative practices
Ali points out that around 80 per cent workers in Karachi are paid even less than the minimum wage set by government.
"Here, [in Karachi] the minimum wage starts with a mere Rs120 to Rs140 and most of the workers have no certainty whether they will be paid at the day's end," he regrets.
The situation calls for a mechanism for ensuring that all workers are paid at least the minimum wage fixed by the government, he adds, as most employers pay little heed to the authorities' decisions regarding minimum wage and have boycotted in the past the meetings of organisations working for labour rights.
As a result, the situation for workers has gone from bad to worse, laments Ali.
"Fewer employment opportunities force them to work in poor conditions and settle for minimal pays … [and] women fare worse as they are paid around 40 per cent less than men."
National Trade Union Federation general secretary Nasir Mansoor also highlights this exploitation of workers, saying that they have been more vulnerable since the pandemic.
"Due to Covid-19, many workers lost their jobs and now, they will settle for anything. Caring about the minimum wage is the last thing on their mind," he says, adding that another factor that contributes to workers' exploitation is the third-party contract system.
A third party is assigned the task to hire workers for a company, which is illegal in light of a Supreme Court order on the matter, adds Mansoor. Yet, the third-party contract system remains, he says.
Potential solution
According to Ali, the law for workers' protection needs to be implemented and further legislation is required on the issue.
"Paying workers less than minimum wage should be declared a criminal act and workers need to be made aware of their rights," he opines. "Employers who fail to pay the minimum wage should be fined and punished."
Meanwhile, Mansoor noted that while there are laws to protect workers' rights, there is little willingness among the authorities and employers for ensuring their implementation.
There are laws that dictate that the salaries of workers are to be either transferred to their bank accounts or they are paid through cheques. These modes of payments ensure that they are paid amounts equivalent to or higher than the minimum wage. But many employers don't abide by the law as it enables them to pay their workers less than the minimum wage, says Mansoor.
"And workers keep working in such circumstances as they fear getting fired and blacklisted by a company in case they complain against the employers," he says. "They also realise that if they are fired, many others would be willing to work lower wages than them."
Read more: Activists call for payment of minimum wage to janitors
If the situation persists, with people being forced to survive subhuman conditions, the government not fulfilling its responsibility, unemployment continuing to increase and the economic crisis worsening, people may take law into their hands, he warns.
According to economist Dr Farrukh Saleem, however, ensuring the implementation of the minimum wage in Pakistan is a far-fetched dream, "as we live in a country where we get labour that works tirelessly for a very low price." He went on to dub the raise in the minimum wage a "political game," saying that the government falls back on increasing the minimum wage when it fails to control inflation. "And the situation for workers remain unfavourable," given the non-implementation of the minimum wage and other labour laws."
*Names changed to protect identity
Published in The Express Tribune, June 22nd, 2021.