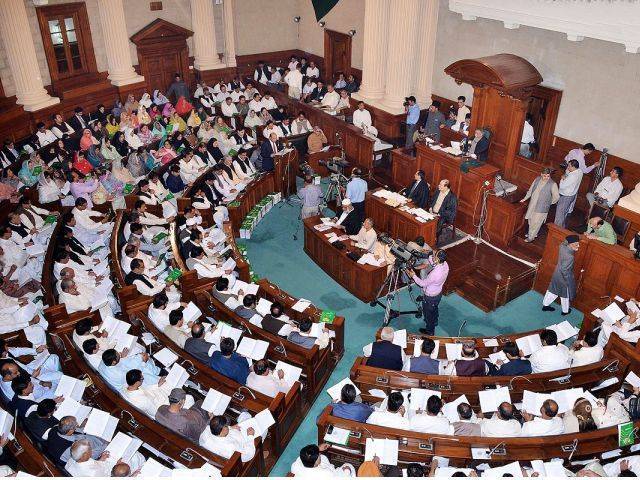 ---
LAHORE:
Provincial Law Minister Basharat Raja's reluctance to immediately brief Punjab Assembly about a case of the rape and murder of a seven-year-old child caused pandemonium in the House on Monday.
Although it was the fourth day of general discussion on the provincial budget for 2021-22, Panel of Chairmen's member Mian Shafi promised to allow PML-N lawmaker Agha Ali Haider to speak on a point of order but did not do so later.
Meanwhile, MPAs from the treasury and opposition benches continued lashing out at the budgets presented by the present and previous governments.
When Agha once again sought permission to speak, Shafi said the law minister was not present.
As the minister arrived, MPA Agha complained that no government leader had visited the home of the child who had been murdered after rape in Nankana Sahib.
He sought information about the status of the investigation but the minister did not share the details.
As the opposition members started creating ruckus over the minister's silence, the member of the Panel of Chairmen, who was presiding over the session, said, "This is not the way. It is the budget session. If you want a reply on this issue, you should visit the law minister in his chamber rather than raising the question during the general discussion."
The opposition members gathered in front of the speaker's chair and some of them staged a sit-in.
Read Student rape at IIUI exposes loopholes
At this, the law minister said he could not fetch the details on a computer.
"I will probe into the matter and issue directives to the police officials concerned to submit a report."
However, he added that the assembly could not be dictated in such a way.
During the general debate, PTI lawmakers applauded the budget presented by their government but also called for increasing funds for various sectors.
Saeed Nawani said both the treasury and opposition members should devise a mechanism to discuss provision of relief to the poor and solution to their problems rather than criticizing and hailing the budget merely to get attention of their leaders.
He said the politicians should stop challenging the 'establishment' and bureaucrats should stop approaching the politicians for transfers and postings.
He said if the PTI government had been presenting pro-people budgets then why the condition of the poor people had not improved and the prices of the essential food items had skyrocketed.
PPP's MPA Mumtaz Ali also staged a sit-in after he was not allowed to speak. He said he had been trying to speak for three days.
As he was allowed to speak, he criticised Chief Minister Usman Buzdar, saying that heavy amounts had been allocated for Rahim Yar Khan and Sadiqabad tehsils, but his area had been ignored.
He alleged that had been asked to get photographed while meeting the CM if wanted funds released for his area.
Published in The Express Tribune, June 22nd, 2021.