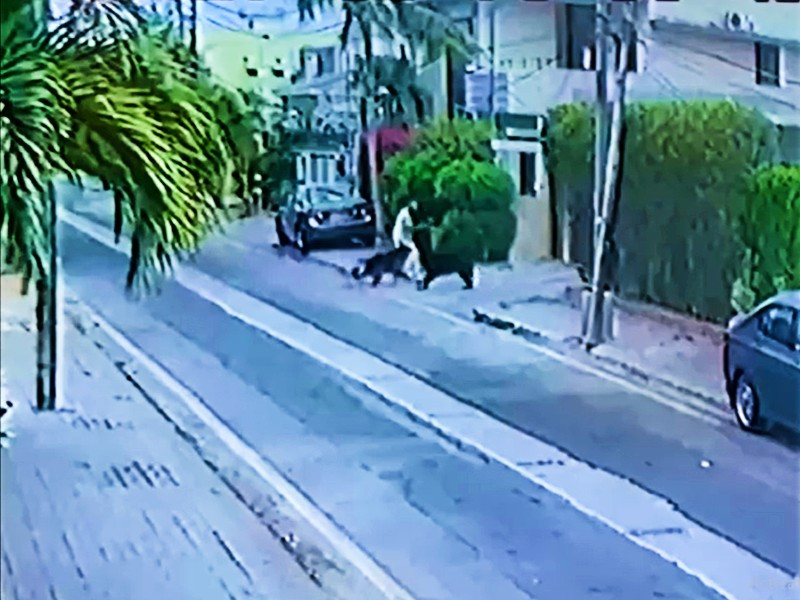 ---
A gruesome video of two pet dogs attacking a man in Karachi's DHA Phase 6 went viral over the internet on Monday.
Mirza Akhtar Ali Advocate can be seen in the CCTV footage walking when the two German Shepherds pounced on him and tackled him to the ground as he helplessly tries to defend himself.
One of the handlers tried to free the man but the animals kept mauling Akhtar. Later, the handler can be seen running for help and another man, most likely his workmate, tries to rescue the advocate from the clutches of the canines.
Read more: 150,000 dog bite cases reported in Sindh this year
The victim had to undergo a four-hour surgery as his arms and ribs were badly damaged in the gruesome incident. The most unfortunate part of the incident was the fact that the two handlers of the dogs —identified as Fahad and Ali —left the struggling man on the road at the beasts' mercy and fled the scene.
Darakhshan Police has lodged an FIR against the owner of the dogs, Humayun Khan and also nominated the two handlers in the case.
Police later told the media that Fahad and Ali had been arrested and presented in a court. The owner of the dogs however secured a pre-arrest bail in the case.
Also read: Dog attack leaves four injured
Karachi Bar Association, in a statement, condemned the vicious attack, saying that neither the owner nor any one of his household helped Akhtar or provided medical assistance to the victim.
"They left him on the road and ran away," it said and added that the advocate had suffered serious injuries which required emergency extensive surgery.
The statement claimed that these dogs have previously also attacked other people in a similar fashion.
COMMENTS
Comments are moderated and generally will be posted if they are on-topic and not abusive.
For more information, please see our Comments FAQ