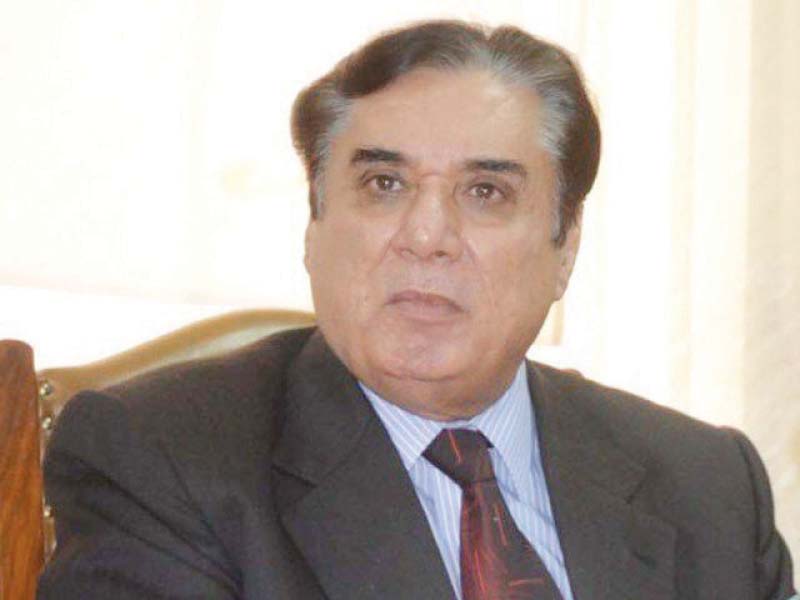 ---
ISLAMABAD:
Warning that $2.6 trillion corruption is committed annually around the world causing staggering loss to developing countries, National Accountability Bureau (NAB) Chairman Javed Iqbal on Sunday said that the graft-buster was committed to fighting corruption in the country.
In a statement, the NAB chief said that corruption should be prevented in all its forms and manifestations, adding that as per the law, NAB's commitment to eradicate corruption from the country is across the board.
"NAB would not spare those who have devoured billions of rupees belonging to innocent Pakistanis," the chairman added.
Asserting that NAB held no bias towards and against any particular entity, the chairman said, "NAB has no affiliation with any individual, party or organisation but with the country alone. It is performing its duties responsibly".
He said that NAB is pursuing a policy of accountability across the board, adding that eradication of corruption has become the voice of the entire nation "as it not only halts the progress of the country but also usurps the rights of the deserving people".
He said that NAB has chalked out a comprehensive anti-corruption strategy comprising awareness, prevention and enforcement.
Besides overhauling the structural procedures in order to ensure credibility, the chairman added, the anti-graft watchdog has received accolades from reputed national and international organisations such as Transparency International Pakistan, World Economic Forum and PILDAT.
Justice Iqbal said NAB had emerged as a role model for countries under the South Asian Association of Regional Cooperation (SAARC).
NAB has also signed a unique Memorandum of Understanding (MOU) with China to extend cooperation in tackling corruption and to oversee CPEC projects, he added.
NAB has also signed a Memorandum of Understanding (MOU) with Higher Education Commission to spread awareness among students at universities and colleges to make our future leadership aware of the effects of corruption.
"The poor investors are running from pillar to post to get their money back. NAB has great regard for the business community which is playing an important role in the country's progress".
The chairman said that NAB has referred the cases of Income Tax, Sales Tax and Under Invoicing to FBR.
He informed that the anti-corruption watchdog had established a special desk at the NAB headquarters in Islamabad to address the complaints of the business community.