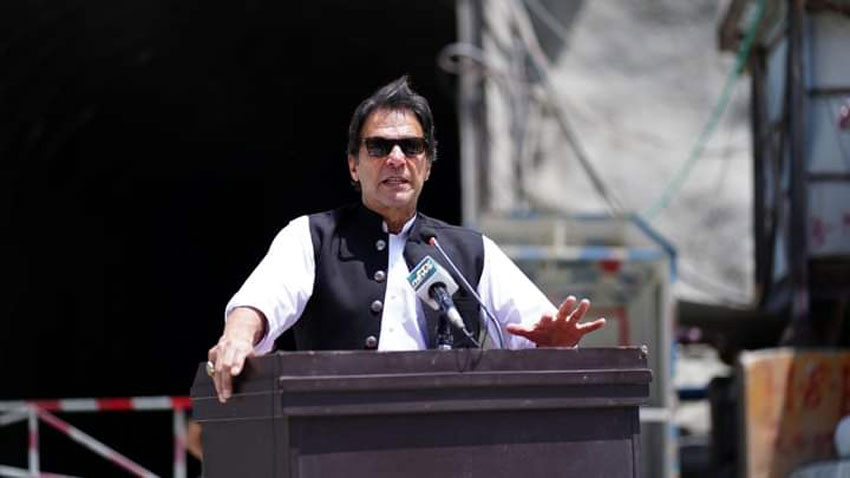 ---
ISLAMABAD:
Prime Minister Imran Khan on Sunday said the government's water conservation policies were finally showing results as the depletion of Lahore's groundwater had stopped for the first time in the last four decades.
"[The] Usman Buzdar-led Punjab government has stopped fall in Lahore's groundwater for first time since 1980," the premier wrote on Twitter.
He said the depletion of underground water level had been stopped through effective water recycling policies, new aquifer charges, underground rainwater storage, timely pumping and other targeted actions.
The prime minister also shared statistics showing Lahore's minimum water level at 5.7 meters and maximum 15.96 metres in 1980 that fell to 8.18 metres minimum and 23.33 maximum in 1990 and further to 11.94 metres and 32 metres in 2000.
Having further dropped to the minimum level of 22.8 metres and maximum to 48.4 metres in 2017, the city's water table stopped depleting since 2018. It currently stands at 23 metres minimum and 50 metres maximum since the last two years.
Faced with fast-depleting groundwater supplies, the Punjab government began rationing water and instituting a range of new conservation measures in October 2018.
WWF researchers noted in 2017 that the water table in the centre of the city is now 130 feet (40 meters) down and is expected to fall below 230 feet (70 meters) by 2025.
"If the trend continues the situation will become even worse by 2040," they had predicted. To try to avoid a crisis, the Water and Sanitation Agency (WASA) also began turning off Lahore's 700,000 water connections 12 out of each 24 hours.
Users will now get water only from approximately 4:00 am to 9:00 am, noon to 2:00 pm and 5:00 pm to 10:00 pm.
The water agency had also increased water tariffs by about 20% for households and about 400% for commercial users.
It had disconnected water supply to more than 280 fuel station car washes across Lahore, ordering them to install, within two months, more efficient mechanised washing facilities with water recycling systems.
Disconnection notices were sent to another 290 fuel stations as well.
Under the new policy, car washes should take no more than 100 litres of water per car.
Among the new conservation measures being put in place, the agency had asked the city's parks authority to recycle used ablution water from the city's mosques to water parks and green strips along city roads.
Last year, the provincial government had decided to build underground water tanks in different parts of the city at a cost of Rs1.25 billion to protect it from inundation after rain and to raise the groundwater level.
The Federal Flood Department has assured the authorities of funding to complete the project. The Lahore WASA had launched the initial small projects that it hoped would also permanently mitigate the problems faced by the citizens, especially commuters, during monsoon rains.
Under the plan, 27 important areas and roads of the city that are most affected by rains have been identified.
WASA had installed rain gauges in 16 areas, including Jail Road, Gulberg, Lakshmi Chowk, Airport, Upper Mall, Mughalpura, Tajpura, Nishtar Town, Nolakha, Paniwala Talab, Farrukhabad, Gulshan Ravi, Iqbal Town, Samanabad, Johar Town and Punjab University.
COMMENTS
Comments are moderated and generally will be posted if they are on-topic and not abusive.
For more information, please see our Comments FAQ