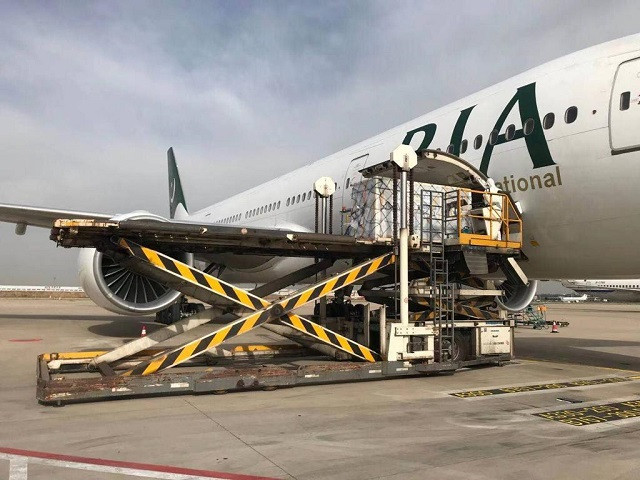 ---
1.5m doses of Sinovac arrive at Islamabad airport: NCOC
Part of emergency orders federal government placed to overcome countrywide shortage of jabs
---
ISLAMABAD:
A special consignment of 1.55 million Sinovac anti-Covid vaccine doses arrived at the Islamabad airport through a special PIA flight on Sunday, announced the National Command and Operation Centre (NCOC).
The consignment is part of the emergency orders the federal government had placed to overcome a countrywide shortage of jabs.
"China as a time tested friend of Pakistan has taken special measures to ensure uninterrupted supply of vaccines to Pakistan," the NCOC statement read.
Read Vaccination grinds to halt at most centres
The principal body governing the policies and implementation of the national Covid-19 efforts in the country further added that another consignment of two to three million doses of the Chinese vaccine will be reaching Pakistan in the next week followed by continued supply.
Measures are in place to transport these vaccines to all federating units according to their requirement.
A day ago, on June 19, Special Assistant to Prime Minister on Health Dr Faisal Sultan said that the government had placed emergency orders for supplies of the coronavirus vaccines and the fresh supplies would begin to reach the country from Sunday (today).
Dr Sultan, the de facto health minister of the country, told Anadolu Agency that Pakistan would receive around seven million vaccine doses over the next 10 days, mainly from China.
The government's ongoing vaccination drive faced a paucity of jabs in various parts of the country this week. According to reports, only a few vaccine centres were functioning in Punjab, while Sindh announced that there would be no vaccination on Sunday.
Read more Two million vaccine doses present in inventory: Dr Faisal
Dr Sultan did not elaborate on what caused the shortages, but assured that "the situation will be normalised from Monday [tomorrow] after the arrival" of the fresh supplies. "We still have 1 million doses in stock. But definitely, they are not enough to be distributed across the country," he said.
Out of a population of 207 million, Pakistan has so far inoculated nearly 12 million people amid a decline in coronavirus cases. It plans to inoculate 70 million people by the end of this year.