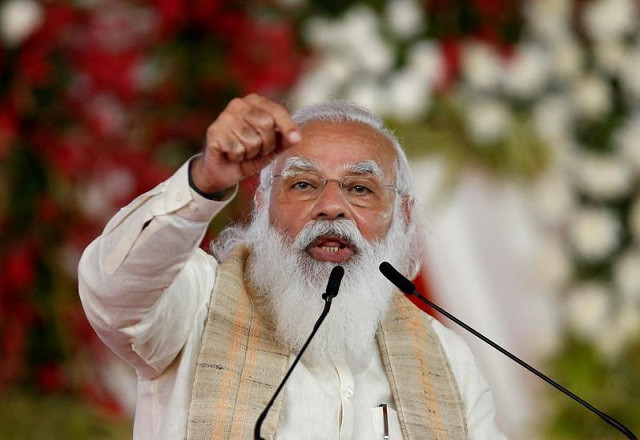 ---
KARACHI:
Prime Minister Narendra Modi has convened an all-party meeting on Indian Illegally Occupied Jammu and Kashmir (IIOJK) next week, seen by the Indian media as a prelude to the restoration of the old statehood status of the disputed territory.
According to India Today, the move was "the most significant step" from New Delhi to end the impasse in IIOJK after the Modi-led Bhartiya Janata Party (BJP) government abrogated Article 370 of the constitution that granted special status to the territory and divided it into two union territories.
"Representatives of parties from both Kashmir and Jammu are expected to be at the meeting, which comes amid reports that the Centre may discuss the restoration of statehood and other important issues concerning J&K," India Today reported.
It added that Modi would chair the meeting on June 24 in New Delhi. Quoting its sources, the newspaper further reported that "informal invites to major political leaders in J&K" had also been sent.
The report confirmed that former chief minister Mehbooba Mufti was among the invitees.
Read more: Pakistan takes India's IIOJK move to UNSC
"The central government has reached out to mainstream parties in the Valley for a meeting next week to discuss the delimitation exercise or the process of redrawing constituencies in the Union Territory," the report quoted a source as saying.
The Press Trust of India (PTI) said on microblogging website Twitter that official had confirmed that political leaders "from Jammu and Kashmir received invite over phone" for the meeting with Prime Minister Modi on June 24.
It added that Union Home Secretary Ajay Kumar Bhalla reached out to IIOJK leaders, including Farooq Abdullah and Mehbooba Mufti. "All 14 political leaders from J-K invited to meeting with PM Modi have been asked to present Covid-19 negative report," it added.
According to Hindustan Times, the meeting would be the first such talks in close to two years, which would also be attended by Home Minister Amit Shah and other central leaders. It added that Altaf Bukhari of the J&K Apni Party (JKAP), and People's Conference head Sajjad Lone would be attending.
The NDTV said that Shah met with National Security Adviser Ajit Doval, regions Lt Governor Manoj Sinha and top intelligence officers on Friday, as "part of the preparations for the all-party meet even as the agenda for it was developmental issues and the current situation in region".
In occupied Srinagar, National Conference spokesman Imran Nabi said that he was aware of the invitation extended to his party but added the ice was breaking. "We (NC) have not changed our stance... but the party has always been open to dialogue."
Mufti-led People's Democratic Party (PDP) said it would hold a meeting of its high command on Sunday (today) to discuss the invitation. "There is no clear-cut agenda regarding the talks, however, I have asked political affairs committee for a meeting to discuss [the invitation]", Mufti said.
Read more: 'Over 3m fake domiciles issued to non-Kashmiris to change IIOJK demography'
On August 5, 2019, Modi's government revoked IIOJK's partial autonomy and other rights. IIOJK was demoted to a union territory governed directly from New Delhi, while the Ladakh region was carved out into a separate administrative area.
A huge accompanying military operation saw tens of thousands of extra troops enforcing a siege-like curfew in the entire region, while thousands of people, including former chief ministers were arrested and telecommunications were cut for months.
The move sent shudders across India's 200-million Muslim minority. Pakistan also reacted strongly to the move, by scaling down the diplomatic relations and severing trade links with the neighbour. Islamabad also forcefully raised the India's illegal move at several international fora.
However, Prime Minister Imran Khan in a recent interview indicated that Pakistan could re-engage with India if New Delhi simply gave a road map to reverse the August 5 actions. But India prior to today's development appeared not in a mood to offer anything on Kashmir at the moment.
Earlier, this week, Foreign Minister Shah Mahmood Qureshi forewarned the international community and stated that India must refrain from taking any further illegal steps in IIOJK, after already violating the international law and the UNSC resolutions on August 5, 2019.