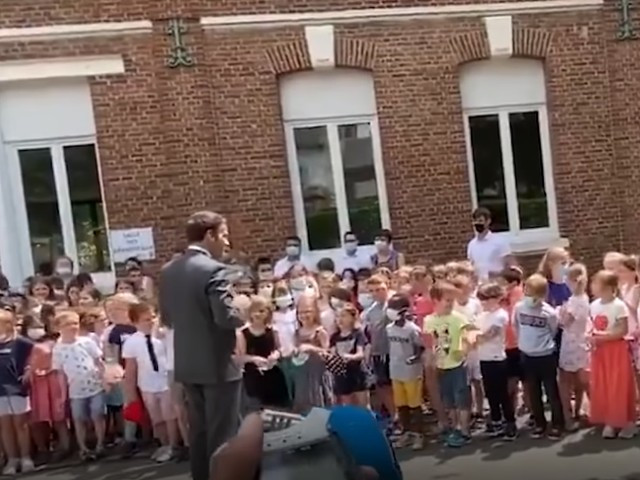 ---
President of France Emmanuel Macron on Thursday was asked by a schoolboy about the slap he received earlier this month during a walkabout in southern France.
The incident took place while Macron was on a visit to the Drome region, where he met restaurateurs and students to talk about how life is returning to normalcy after the Covid-19 epidemic.
Macron, in a viral video, could be seen walking towards a crowd of well-wishers who were behind a metal barrier.
The French president reached out his hand to greet one man in a green T-Shirt, with glasses and a face mask.
Read more: WATCH: France's Macron slapped in face during walkabout
28-year-old Damien Tarel could be heard shouting out "Down with Macronia" ("A Bas La Macronie") and then he delivered a slap to Macron's face.
Two of Macron's security detail tackled the man in the green T-shirt, while another ushered Macron away. But Macron remained in the vicinity of the crowd for a few more seconds, and appeared to be talking to someone on the other side of the barriers.
In the latest incident, the French president went to a primary school in France's Poix-de-Picardie town on Thursday. At midday, the head of state was meeting several classes of young children in the school playground, when one of them raised his hand to ask him a question:
"Tell me", replies Emmanuel Macron. "How's the slap you got?" asks the child.
"Oh yes it's fine, but it's not pleasant eh. And it's not good eh, you should never do that, even in the courtyard," replied Macron.
Also read: French court sentences man who slapped Macron to 4 months in jail
During this visit, Macron also spoke with former students of his maternal grandmother, Germaine Noguès, who ran the elementary school of Poix-de-Picardie, as well as with parents of students.
On June 10, a court-ordered Tarel to serve four months in jail, BFM TV reported.
The court gave Tarel a sentence of 18 months in jail, but 14 of those months were suspended, the broadcaster reported.