 ---
A couple of days ago, Canadian vlogger Rosie Gabrielle took to social media and shed light on the plight of Hunza locals. The traveller took to Instagram and shared few pictures from her recent trip to Hunza and the north, calling out 'local tourists' for 'destroying Hunza's culture with drugs and partying.'
Sharing what seemed like screenshots of the complaints from local residents about recklessness and untidiness, she shared how it hurts her to see Hunza in the current state. However, Gabrielle's reservations were met with criticism by Pakistani starlet Ushna Shah. The Cheekh star took to Instagram and shared the vlogger's aforementioned post about Hunza's current state.
"You know what we don't appreciate? Judgmental, condescending, "white saviour" wanna-be's. We don't need YOU to 'fix us'," the Balaa star penned. "Government of Pakistan needs to stop handing out YouTube visas."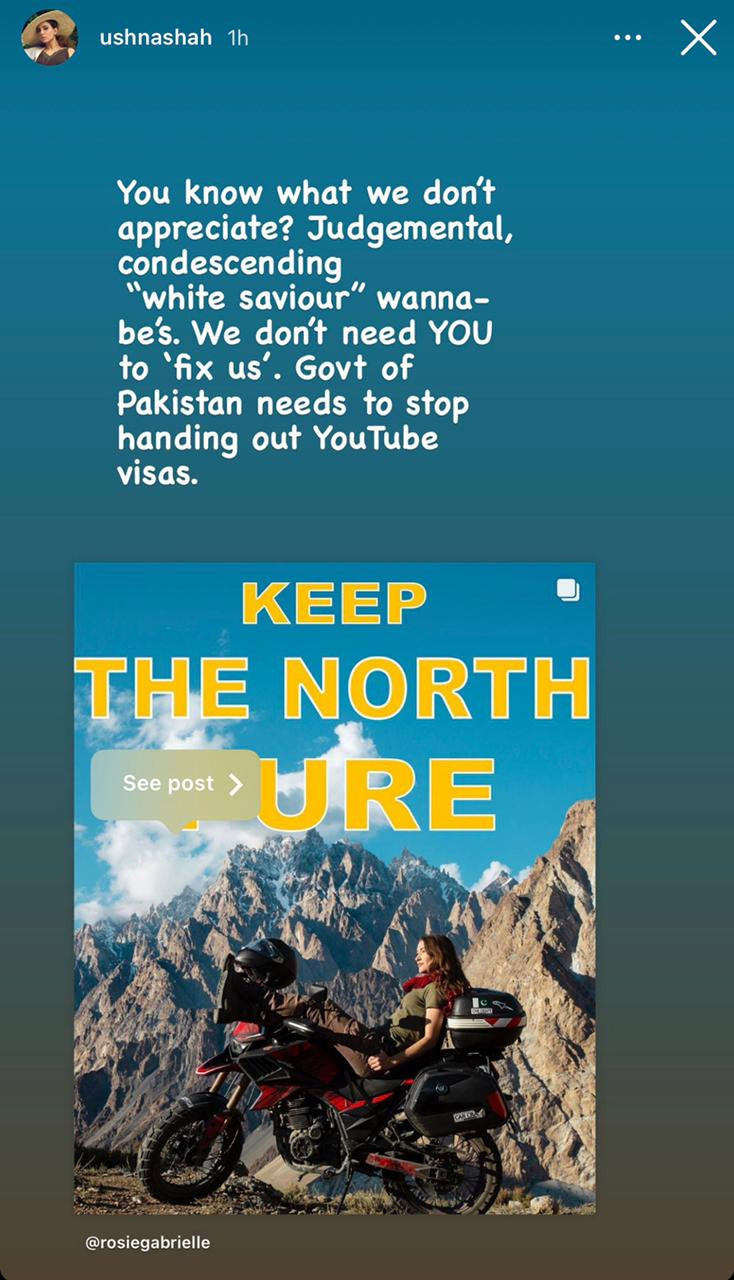 Weighing in on the same, popular host Anoushey Ashraf shared her stance on Hunza Fest as well. "I am all for music festivals and I have attended many as well," the VJ shared in an Instagram story, adding, "But I feel it should be done responsibly. It should happen with the compliance of what the locals want and it should definitely be safe."
Earlier, Gabrielle shared her two cents on the matter. "As tourism rises in Pakistan, especially local tourists, there is a growing problem that needs to be immediately addressed before it's too late. Since Covid happened and travelling outside the country has decreased, there's been an influx of people flocking north," she began, adding, "But instead of bringing just their smiles and leaving only good memories, they are bringing bad behaviours, drugs, vulgarity, rave parties and leaving a lot of TRASH!"
She went on to comment, "One of my worst experiences in Pakistan was when I started to go north. If you followed me then, you'd see I almost had a nervous breakdown from the amount of disturbance I received from local tourists. I can't even imagine what locals experience every day. It was so bad I ran far into the mountains for many weeks to escape these people."
Gabrielle added that she "understands that people need to express themselves, release pent-up energies and get out of their suffocating lives." She added, "But coming to sacred land, feeling privileged and entitled to destroy it, bringing your toxic habits to innocent communities is NOT okay! By introducing these behaviours and substances you are destroying a culture. By leaving your trash, you're demolishing the land and disrespecting the house of God."
Have something to add to the story? Share it in the comments below.
COMMENTS (2)
Comments are moderated and generally will be posted if they are on-topic and not abusive.
For more information, please see our Comments FAQ