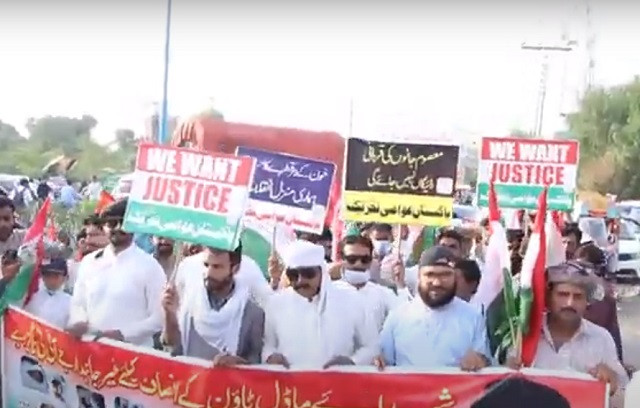 ---
RAWALPINDI:
The Pakistan Awami Tehreek (PAT) took out a rally against the Model Town tragedy in Rawalpindi on Thursday, causing traffic snarl-ups in the city. The rally commenced from Chandni Chowk on Murree Road and culminated at Liaquat Bagh Chowk, which was led by PAT North Punjab President Qazi Shafiqur Rehman and District President Malik Nazir Awan.
The protesters waived PAT flags, photos of martyrs and gravestones inscribed with slogans against Nawaz Sharif, Shehbaz Sharif and Rana Sanaullah. At the culmination of the rally, PAT Chief Dr Tahirul Qadri addressed the participants via a video link.
He said that the perpetrators of the Model Town tragedy did not let justice be served during their four-year regime. However, he added that the martyrs were not being served justice in Pakistan Tehreek-e-Insaf (PTI) rule either, which was incomprehensible.
He questioned Prime Minister Imran Khan over his false promises and claims to bring the perpetrators to justice. PAT chief said that they knew that the courts were not under the control of the premier but he could order dismissal of false cases against party workers.
Read Premier's seat stained with blood of Model Town martyrs: Qadri
Dr Qadri stated that Khan could remove nominated officials from the posts and sympathise with the victims' families. He said that suspension of an independent joint investigation team (JIT), formed by the Lahore High Court (LHC) on the orders of the Supreme Court (SC), and rescinding its findings on the petition of an accused constable was a mockery of the country's justice system.
He expressed that country's soil would never embrace the killers and those who saved them would soon meet their fate. I have left politics but not stopped chasing the criminals, he remarked while felicitating the workers during the nationwide protest on the anniversary of the tragedy.
Furthermore, Rehman said it has been seven years since the Model Town incident but the government and law and justice institutions have kept their lips sealed. He added that it was because the perpetrators belonged to the ruling class and the system gives them full protection.
The provincial president for the party said that Qadri's political struggle was against the same oppressive system which was stopped by shedding the blood of PAT's workers. He reiterated the demands of the PAT chief to the prime minister.
Moreover, PAT Rawalpindi President Awan said that abettors of the criminals within the system were continuing to toy with justice.
Published in The Express Tribune, June 18h, 2021.