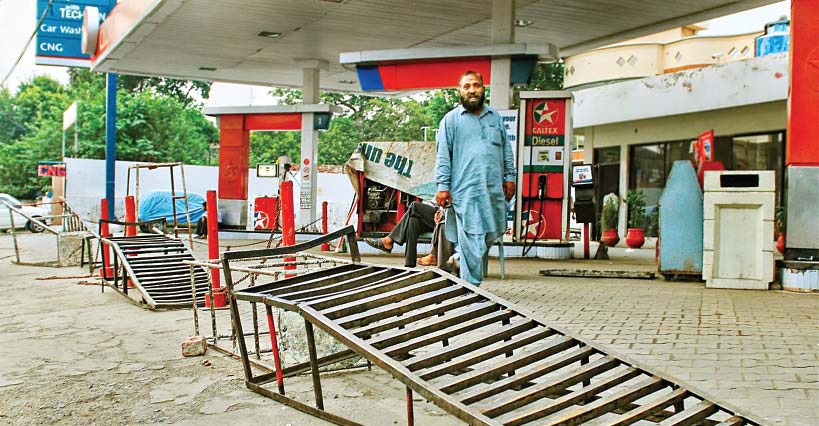 ---
ISLAMABAD:
Consumers of Punjab are set to face a massive increase in prices of compressed natural gas (CNG) as the government has imposed additional taxes on liquefied natural gas (LNG), which is used by CNG filling stations, in the budget for fiscal year 2021-22.
CNG consumers in Punjab are using LNG - an imported fuel - because of shortage of locally produced gas in the country for the last several years.
Earlier, the Pakistan Peoples Party (PPP) government diverted local gas from the CNG sector to the textile industry, which left the CNG retail outlets dry.
Later, the Pakistan Muslim League-Nawaz (PML-N) government initiated a plan for LNG supply, which helped the CNG industry survive as earlier it had no alternative fuel to operate the filling stations.
Read: LNG plants to be free of merit order
At present, the CNG sector in Punjab is consuming expensive LNG, being imported by state-owned Pakistan LNG Limited (PLL) at higher prices.
Consumers are not only paying the price of expensive deals, but they are also bearing the cost of inefficiency and mismanagement.
In the budget, the government has proposed an increase in general sales tax (GST) from 12% to 17% on re-gasified LNG.
The All Pakistan CNG Association on Thursday said that the imposition of new and additional taxes on LNG would push up the price of CNG by Rs6-9 per kg.
"The move will result in closure of hundreds of CNG stations, leaving hundreds of thousands of employees jobless," it said.
The levy of gas development surcharge and increase in other taxes would hurt the gas sector, put investment of hundreds of billions of rupees at stake and send a negative signal, remarked Ghiyas Abdullah Paracha, central leader of the CNG Association.
He pointed out that the government was providing affordable energy to many sectors with focus on export industries in a bid to boost exports, but reduction in import bill was also necessary to curtail the trade gap for which promotion of CNG was a must.
Read more: LNG consumers pay extra $99m
Paracha was of the view that almost all sectors were provided relief in the FY22 budget, but the CNG sector was subjected to a harsh treatment.
"A lower petroleum levy is promoting consumption of petrol and diesel while CNG is paying the price for this policy and a further hike in the CNG price will be devastating," he noted.
Paracha claimed that the CNG sector was paying the highest direct taxes and paying full price of LNG and its closure could hit LNG supplies worth billions of rupees as CNG was the only sector purchasing LNG without any subsidy or discount.
"Closure of CNG sector will cause an increase in pollution, jack up fares of public transport, increase the oil import bill and budget deficit," he cautioned. Paracha stressed that the decision to introduce new taxes and increase the existing taxes should be reversed or the CNG sector should be given locally produced gas at subsidised rates.
Published in The Express Tribune, June 18h, 2021.
Like Business on Facebook, follow @TribuneBiz on Twitter to stay informed and join in the conversation.