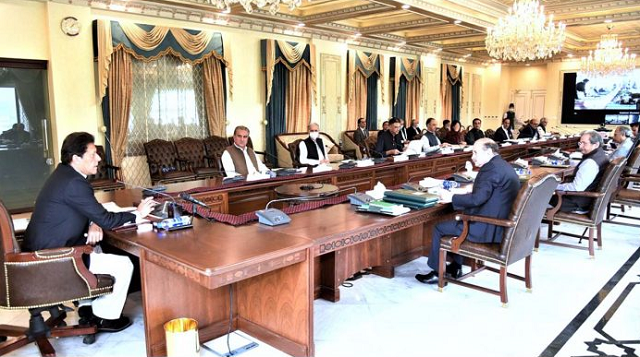 ---
ISLAMABAD:
The Council of Common Interests (CII) on Thursday formed a committee including chief ministers and federal ministers to review in detail and finalise the draft of the National Electricity Policy 2021.
According to a statement issued by the PM's Office, a meeting of the CII was held under the chairmanship of Prime Minister Imran Khan in which the chief ministers of the four provinces and federal ministers participated.
The committee will finalise the draft and present it in the next meeting of the CCI on Monday.
The body includes the finance minister, energy minister, law minister, the special assistant to the PM on energy and the chief ministers of the four provinces.
In April this year, the Cabinet Committee on Energy (CCoE) had endorsed the proposed draft National Electricity Policy 2021 and issued directions to the power division to incorporate the agreed recommendations and submit them to the cabinet and CCI for final approval.
The energy ministry was advised to include the opinion of the law division on certain observations raised by the participants during the meeting.
The cabinet body was informed that the National Transmission and Despatch Company (NTDC) was mandated for preparation of the IGCEP on an annual basis for review and approval of the National Electric Power Regulatory Authority (Nepra), under the provisions of the Nepra approved grid code. The NTDC prepared the IGCEP 2047 and submitted the same to Nepra on April 20, 2020.
Nepra conducted public hearing on the submitted IGCEP on July 15, 2020 as part of the review and approval process. After the hearing Nepra returned the IGCEP to NTDC on August 20, 2020 with certain directions for changes in the IGCEP report, accordingly, NTDC responded to Nepra on September 4, 2020 and communicated consent to manage quick compliance, seeking clarity on certain directions and requested Nepra to review certain directions which contradict with the ARE Policy 2020, CCoE decision dated April 4, 2020 and/or certain provisions of the grid code.
The wholesale generation cost accounts for 80-85% of the end consumer costs. Therefore, the generation planning needs a clear roadmap.