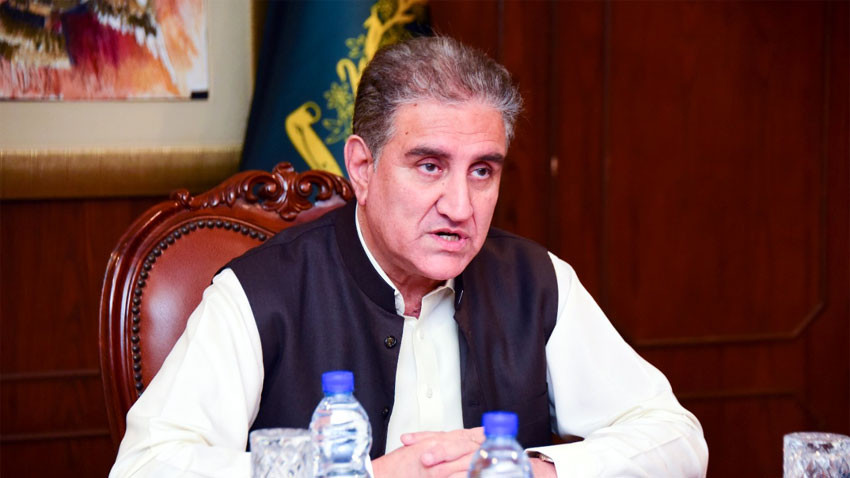 ---
ISLAMABAD:
Foreign Minister Shah Mahmood Qureshi has stressed the need to formulate a comprehensive strategy to effectively publicise the government's statement and to further articulate Pakistan's position on important regional and global issues.
"Today, Pakistan is using public diplomacy to promote its strong statement and present its position to the world in a concrete manner," Qureshi said while chairing a meeting at the Ministry of Foreign Affairs on Tuesday.
Trade Adviser Abdul Razzaq Dawood, Special Assistant to the PM on National Security Moeed Yousuf, Foreign Secretary Sohail Mahmood and senior foreign ministry officials were in attendance.
Qureshi told the participants that in order to more effectively articulate the priorities and achievements of the current government, "we need to make our public diplomacy more active".
He stressed the need to present Pakistan's position on important regional and global issues and also put economic priority agenda before the world.
Read: Govt working on transforming Pakistan's geo-politics to geo-economic policy: FM Qureshi
In this rapidly changing era, he said, they were working towards making officers adopt skills of traditional as well as public diplomacy.
"In this regard, the Strategic Communications Division at the Ministry of Foreign Affairs is playing a dynamic and active role."
Where the threats posed by the Corona Global Epidemic Challenge, we have new opportunities to promote connectivity through public and digital diplomacy.
Separately, Qureshi in a statement urged the Afghan leadership to sit together to resolve their issues, noting that the peace process had reached a critical phase.
"The parties will not gain anything from allegations," the foreign minister said.
FM Qureshi again reaffirmed Pakistan's commitment to peace and stability in the region, saying that Pakistan would not allow its land to be used against any other country.
The FM urged India to work for peace in the region "instead of being a spoiler".
He said that the minorities in India were under great stress and feeling insecure and that a large segment in India had rejected the strategy of Indian Prime Minister Narendra Modi.
COMMENTS
Comments are moderated and generally will be posted if they are on-topic and not abusive.
For more information, please see our Comments FAQ