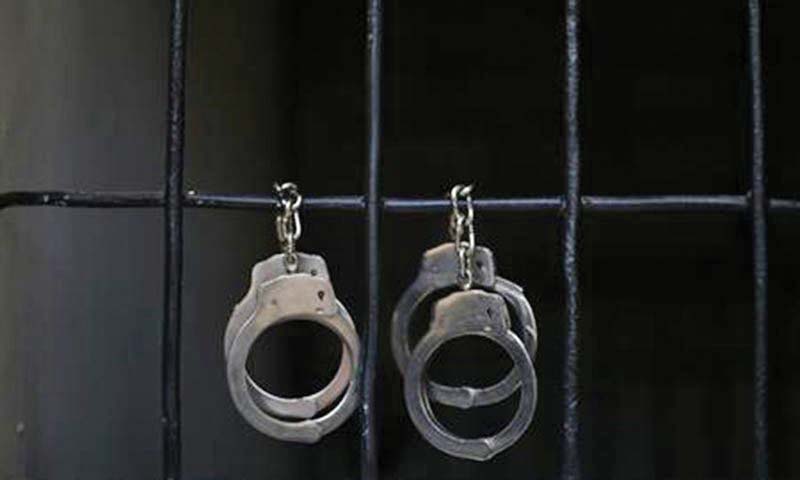 ---
KARACHI:
The police on Tuesday arrested a suspect who has allegedly confessed to killing a constable and other citizens during various robberies.
City zone SSP Sarfraz Nawaz said that a squad of Baghdadi police station arrested Abdul Rehman and recovered two 9mm pistols, bullets and seven snatched mobile phones from him.
Rehman was accused of killing Constable Moiz Khursheed in Lyari on May 7. Moiz was posted as driver of SSP City.
Moiz was sitting outside his house near Shehzada Manzil Lane II in civvies on the night of May 7, when Rehman and his accomplices came riding down the street snatching cash and mobile phone from the neighbourhood people.
Moiz was pulling out his pistol when the muggers saw his action and instantly opened fire on him. Moiz died on the spot while six-year-old Abu Bakr and 18-year-old Jahanzaib were injured in the attack.
Meanwhile, sources in police attributed the arrest of the cop killer to a covert operation, which was otherwise illegal.
Sources claimed that a well-connected retired constable Anwar Kaliya, who heads an unofficial squad at Baghdadi police station, got the news from an informer that Rehman was holed up at a hideout in Hub, a town in the Lasbela district of Balochistan which borders Karachi. Since Hub was not in Karachi police jurisdiction, and the Baghdadi police did not wanted to miss the target, Kaliya made an illegal raid in Balochistan police jurisdiction and hauled Rehman to Baghdadi police station.
Rehman's arrest was however officially declared in a raid at a hideout in Moosa Lane of Lyari.
According to SSP City Sarfaraz Nawaz, the Baghdadi police conducted an operation near Meeran Peer Graveyard Moosa Lane and arrested Abdul Rehman over charges of the murder of Constable Moiz. A case under sections of terrorism, robbery and murder was lodged at the Baghdadi Police Station.
According to SSP East, the arrested suspect is a habitual criminal and was wanted in numerous murder, attempt to murder and robbery crimes.
Published in The Express Tribune, June 16h, 2021.