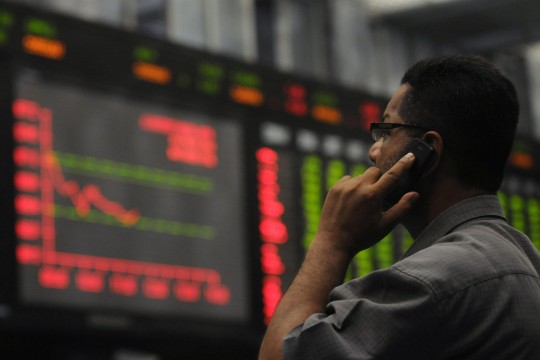 ---
KARACHI:
The stock market experienced a lacklustre session on Tuesday as budget optimism faded and investors resorted to offloading their stockholdings owing to the absence of positive triggers that could provide direction to the bourse.
Consequently, the benchmark KSE-100 index shed 94 points in a range bound trading session.
Profit-booking dominated trading throughout the day and it particularly impacted the automobile, fertiliser, oil and power sectors, which closed with losses.
On the flip side, cement sector stocks were in the limelight on the back of a spike in prices and government of Punjab's announcement of several development schemes in the provincial budget for 2021-22.
Earlier, the market session began with minor ups and downs and the KSE-100 index kept trading in a narrow range throughout the day. Selling pressure accelerated towards the end, which dragged the market down.
At close, the benchmark KSE-100 index recorded a decrease of 93.52 points, or 0.19%, to settle at 48,632.56.
Arif Habib Limited, in its report, stated that the market traded range bound on account of profit-booking, particularly in refinery, steel, cement, exploration and production sectors.
The index oscillated between -215 points and +115 points, closing the session down by 94 points.
The technology sector failed to bounce back in previous sessions and a similar downtrend was witnessed on Tuesday as well.
In the exploration and production sector, investor interest was seen in Oil and Gas Development Company on the back of anticipated dividend payout, whereas the fertiliser sector remained under pressure after less-than-anticipated takeaways from the recently announced budget, the report said.
JS Global analyst Maaz Mulla said that the KSE-100 index traded sideways, touching a low and high of -215 and +115 points respectively.
K-Electric led the volumes as media chatter suggested that the National Transmission and Despatch Company (NTDC) had recently stopped additional supply of electricity to the company due to non-payment.
Southern region cement manufacturers announced an increase of Rs20 per bag in cement prices and consequently, the cement sector gained ground. Flying Cement (+0.8%), Maple Leaf Cement (+0.6%) and DG Khan Cement (+1.3%) were the major contributors.
In the refinery sector, Attock Refinery (-5.1%), National Refinery (-3.6%) and Pakistan Refinery (-2.7%) shed value and ended in the red.
"Moving forward, it is recommended to investors to take advantage of any dip in construction and export-oriented sectors," the analyst said.
Overall trading volumes rose to 1.224 billion shares compared with Monday's tally of 1.218 billion. The value of shares traded during the day was Rs28.2 billion.
Shares of 403 companies were traded. At the end of the day, 143 stocks closed higher, 237 declined and 23 remained unchanged.
K-Electric was the volume leader with 313 million shares, gaining Rs0.45 to close at Rs4.69. It was followed by WorldCall Telecom with 147.6 million shares, losing Rs0.26 to close at Rs3.97 and Byco Petroleum with 129.4 million shares, gaining Rs0.19 to close at Rs13.02.
Foreign institutional investors were net sellers of Rs70.4 million worth of shares during the trading session, according to data compiled by the National Clearing Company of Pakistan.
COMMENTS
Comments are moderated and generally will be posted if they are on-topic and not abusive.
For more information, please see our Comments FAQ