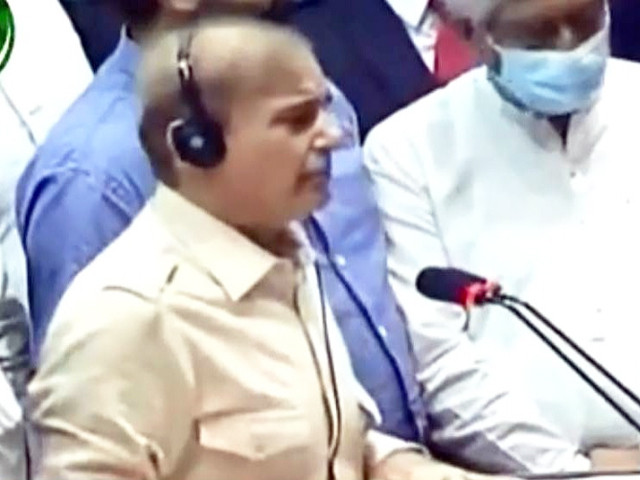 ---
Leader of the Opposition in the National Assembly Shehbaz Sharif has urged Prime Minister Imran Khan to take the lower house of parliament into confidence over the government's ongoing negotiations with the International Monetary Fund (IMF).
He made the remarks on Tuesday while delivering the post-budget speech in the house amid treasury benches hue and cry and attempts to interrupt his address.
"Prime minister should come to the house and give explanation over reports that some powers are playing their role to broker deal between Pakistan and the IMF," he added.
Shehbaz said the opposition wanted to know about the secret players involved in the IMF negotiations.
Last week, Finance Minister Shaukat Tarin had denied reports that Pakistan is leveraging its ties with the US military for putting off some reform measures under the IMF loan programme.
Also read: Shehbaz fails to deliver budget speech
His comments were made in reference to a story by The Financial Times which quoted the finance minister saying that military cooperation with the US over America's withdrawal from Afghanistan had given the Imran Khan's government "some space" to delay unpopular IMF reforms.
Islamabad is in talks with the IMF to release the next tranche of funding as part of a $6 billion loan programme.
The opposition leader while quoting credible sources said that the government is "secretly planning to impose additional taxes worth Rs383 billion".
"If this turns out to be true then people's lives would be made miserable and they would not be able to make their ends meet," he remarked.
Shehbaz said the government had been telling lies for the last three years about its economic statistics and termed the budget a "lie and fraud" with the nation.
He demanded the finance minister assure the house that no new taxes would be imposed in the upcoming federal budget.
The PML-N president sent on to say that due to high inflation the real income of the masses has fallen.
He said during the tenure of the PTI-led government, the unprecedented fiscal deficit was recorded.